Steep Urbanist: Collaborating with Earth's Terrain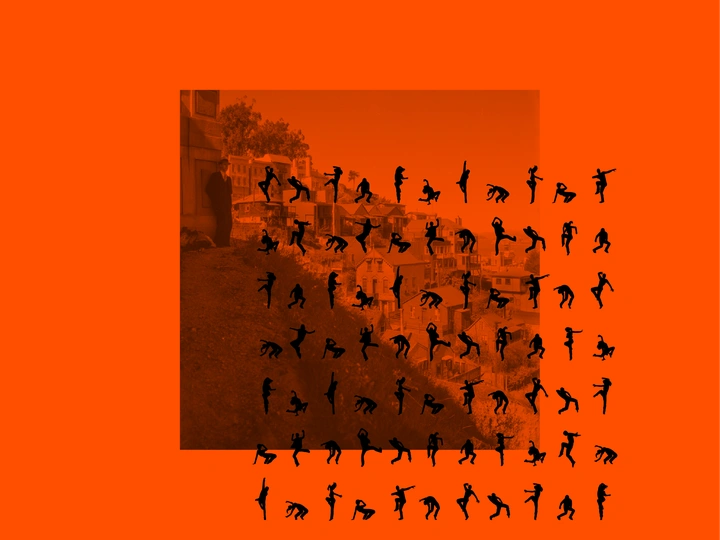 Steep Urbanist explores the infrastructure of sloped cities, re-orienting human perceptions of geography through participatory movement experiments
---
Lina Bondarenko
Kyiv, Ukraine. Lisbon, Portugal. Athens, Greece. San Sebastian, Spain. San Francisco, USA
Links
Team members
Lina Bondarenko
Field of work
Architecture, Urban planning, Ecology, Multimedia, Research
Project category
Urbanity
Project submitted
2023
At its most basic, architecture is a series of horizontal surfaces conducive to human activity. Much of my 10 year career propelled design as "Form Follows Function" at Bjarke Ingels Group and REX, or "Human-centered Design" with Gehl and Ideo. Yet, my interface with the physical earth occurred primarily through digital cartography and 3D models relative to a virtual Z axis. I went on to research landscapes of extraction and impact of planetary scale computation on urbanism at Strelka Institute's The New Normal post-grad program. There, I co-founded the AR platform, Patternist, identifying urban patterns, which was subsequently presented at Impakl Festival (NL), Sonic Acts Academy, and Ideas City Festival at the New Museum in NY.
Later, as an architect on the steep slopes of San Francisco, the performance of the Anthropocene became tangibly felt, in which the logic of the earth – its geology, geography, and hydrology – forces human motivation to concede. Confronted by San Francisco's vertical streets, the logic of modernity's horizontal planes succumb to the rules of terrain, I founded the project that is capable of reorienting focus on humanity's relationship beyond itself, prioritizing its environment. I lead SteepUrbanist events with the Architecture Institute of America's National Conference, SF Design Week, the Architecture in the City Festival. I was interviewed on the radio, and had art featured in gallery shows. This work aims to unite through art, rather than extract and exploit.
Born in Kyiv in the final years of USSR, immigrating as a Jewish refugee to California as a kid, growing up with a third-culture multilingual identity has inspired a lifelong fascination with universal patterns and local characteristics that shape our built environments. Today, amid a war in my homeland as well as a global environmental emergency, SteepUrbanist seeks to be a voice of unity and optimism.
---
Iconic ancient sites such as Mesa Verde, Machu Picchu, and Cappadocia are defined first by the landscapes in which they are situated, operating as spatial volumes even before human intervention. Modern cities impose grids to control territory, discarding local knowledge of terrain to subjugate nature to human order. San Francisco's gridded hillsides, Hong Kong's escalator networks, and Lisbon's terraces owe their formal characteristics and our ability to imagine them as collaborators with the logic of the land on which they are situated. If the climate crisis is a crisis of the imagination, could experiences which position the responsible parties in situ with the very earth they have so much trouble visualizing, allow us to recenter our values and galvanize change? To illustrate these concepts, Steep Urbanist orchestrates Happenings, similar to those of the Fluxus artists of the 60's, sending participants to dance to music along specific hilly neighborhoods as they encounter perspectives of their surroundings, the societies and logics the built form serves, and the moving spectacle of one another theatrically moving through the outdoor urban street. Just as the amphitheaters of ancient Greece carved concentric seats along the contours of the slope, positioning action against the scenography of the earth itself. In discerning how architectural foundations and infrastructures collaborate with complex topography, urbanism can leverage density to shrink architecture's ecological footprint and galvanize change. My aim in studying urban environments is to uncover new, more symbiotic relationships between humanity and the planet as a means of opposing capitalism's extractive and anesthetizing power. I hope to expand this project in European cities and to collaborate with other local experts of urbanism, as well as geologists, earth scientists, choreographers, ethnographers, etc. Through a moving mobile dance party, a serious climate conversation arises from the land.