Remnants of Tsnori Cable Car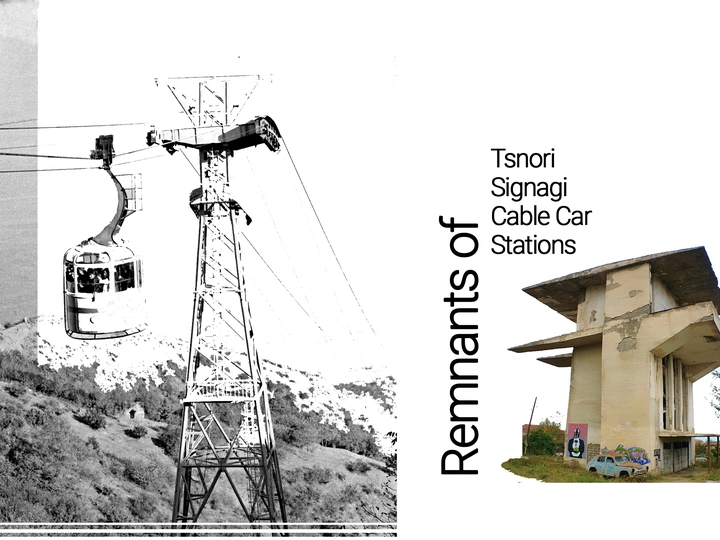 Tsnori - Signagi ropeway and what replaced its use: Modes of transport; uses of abandoned infrastructure.
---
Tsnori Cablecar Team
Tsnori, Georgia
Links
Team members
Lela Grigalashvili
Giorgi Karalashvili
Sophie Karalashvili
Eugene Slonimerov
Field of work
Design, Urban planning, Visual Art, Curating, Research
Project category
Sustainable mobility
Project submitted
2023
Giorgi Karalashvili completed bachelor's degree in Social Sciences at Tbilisi State University and pursued a master's degree in Digital Design at the Art School of Sorbonne, Paris 1, starting in 2022.
His design fiction project "Paris 20XX" – aiming to tackle supra-heat phenomena in urban environment, was exhibited at the Maison de l'Architecture Centre-Val de Loire.
Currently, Giorgi works on a research project funded by the Canada Research Council and the Georgian Academy of Sciences. Collaboration with Eugene Slonimerov and Paul Manning focuses on the next chapters of http://www.tiflis-tbilisi.com/, exploring gardens and brownfields of Georgia.
Sophie Karalashvili bachelor of Inernational Law graduated from Tbilisi State University.
Sophie's passion lies in addressing environmental issues, promoting sustainability, and upholding human rights. Sophie participated in multiple Erasmus+ exchange projects, fostering international collaboration and embracing cultural diversity.
Coming back from the USA, she plans to stay in the village during the next year, contributing to strengthen the community by volunteering in local NGOs, or organizing events for the LINA project.
Lela Grigalashvili graduated from the Faculty of Restoration/Conservation, Art History and Theory of the Tbilisi State Academy of Arts, where she became a Master's student of Cultural Studies.
Since 2018, she is a young curator, the creative director of the Window Project, a contemporary art gallery and project space, where she works on such institutional exhibitions as collections of ifa – Institut für Auslandsbeziehungen (Otto Dix, Rosemarie Trockel, Sigmar Polke), and also, is engaged in discovering and supporting young Georgian artists. She contributes to Artis's books and magazines, such as Art Viewer and Artforum.
The project will benefit from assistance/mentoring of a canadian researcher and Urban Studies lecturer – Eugene Slonimerov. He was one of the contributor of TAB 2022.
---
As local who has added graffiti to the Tsnori cable car station, I return with the intention to write a history of this large landmark of my community. The history of the Tsnori-Signagi ropeway informs on a few meanings from the past: infractures; public transport and public space. Today this site is a canvas for graffiti and a spot that is still integrated into a bigger park, though it sits abandoned and hollow.
What was once a public service travel option is now replaced by polluting vehicles and individualized leisure.
We will piece together its history but also what replaced it - travel routes from Tsnori through Sakobo/Brotsliani to Sighnagi, where the station had been converted into a spa hotel. Insights on reuse of public infrastructure is to be gained, via a series of interviews, mapping walks, local story and photo collection and historical research.
Much has been written recently on Georgian cable cars in general or in the capital Tbilisi. The project I am currently assisting on has published http://www.tiflis-tbilisi.com/index.php/portfolio/socialist-tbilisi This would be a closer study of one such system, and not based in a large urban centre.
We are open to collaboration with other applicants interested in cable cars, rural/urban planning and revival, placemaking, architectures of infrastructure.
We propose a visual essay with maps and other illustrations. We would also be interested in hosting a visiting LINA member or a group of members, should dates line up.
A note on being there: we acknowledge that we are those that have left the rural area to get an education in the capital city, and then abroad. Not three of us only visit the area a few times a year. This relationship with the community is itself an important aspect of the project as we set out to collect interviews, and we commit to giving a voice to the local community by this project, not just benefit our career as emergent researchers.