Architektur-In-Residency, Luckenwalde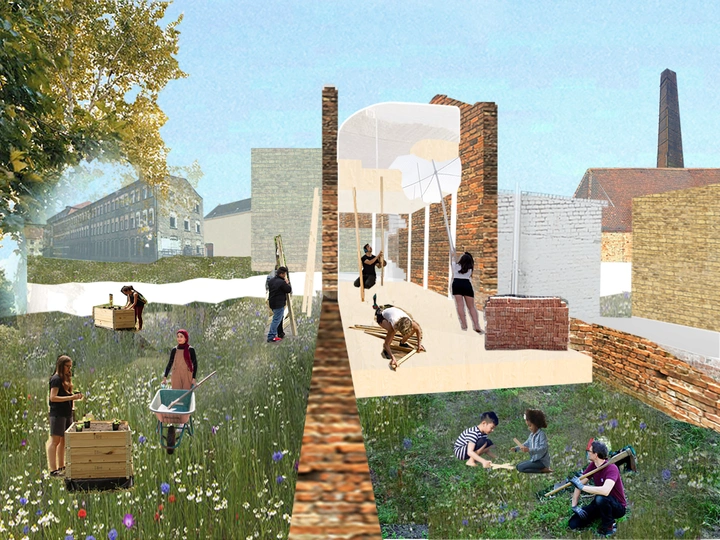 A-I-R is a design education residency exploring community-based design and alternative, anti-speculative land use practices in architecture.
---
A-I-R e.V.(i.G)
Luckenwalde, Germany
Links
Team members
Zoë Ritts, Pablo Santacana López, LeeAnn Suen, Sophie Marthe
Field of work
Architecture, Urban planning, Research
Project category
Material tracking and reuse
Project submitted
2022
We are a core group of seven, the A-I-R e.V. ('association'), infrastructure for the recurring residency: architects, urbanists, artists, and academics in Brandenburg. In various constellations, we have published books, written essays, hosted talks and film screenings together; explored cities, towns, and archives to research land, homeland, homelessness, circular economy, property and reproduction. We work in cooperation with local youth and social organizations in Luckenwalde.
---
A-I-R (Architektur-In-Residency) is a design education residency that democratizes access to architecture and explores alternative, anti-speculative, non-financialized land use practices. Soft launched in 2022, we hope to host our first full resident in 2023.
The recurring, nine-month program would support a young architect or collective in reactivating unused building stock and empty plots in Luckenwalde, Germany. The architect in 'residency,'—who may not have institutional support and may be from a community typically marginalized in the architectural field—designs and constructs an architectural project whose program is determined by the local youth and community. This community is involved throughout the residency's duration, from design through construction and long-term use.
The residency pursues a holistic practice of sustainable design and building: rehabilitation of sites, reuse of salvaged materials, community capacity building, and the applied research of non-ownership property structures which combat the financialization of land and architecture. Through researching and testing alternative land access mechanisms, the program seeks to popularize more democratic ways of accessing land—ones applicable in Germany and beyond.
This applied research in practice is sustained by the A-I-R team hosting the residency. Our ongoing study of historical, contemporary, local and global, land use formats, for example the German 'Erbbaurecht' long-term land lease, complements the applied research of the resident. Our ongoing findings are shared through writing, publishing, experiments, talks, and other cultural programming.
It is our belief that working with youth and young practitioners places the knowledge and experience of such alternative mechanisms in the hands of tomorrow's architects and builders. At its core, our project is about access and agency—to the opportunity to design, to question, and literally shape one's world.