Buliding ecosystems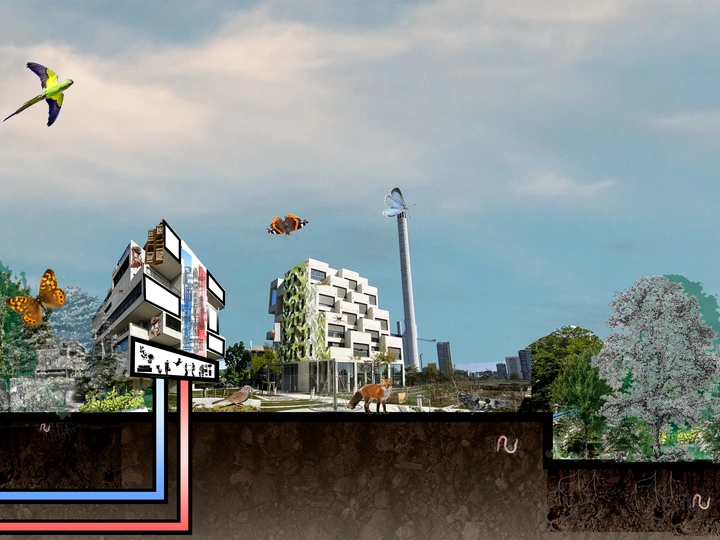 My project aim to develop new type of façade for modernist buildings renovation as ecotones between the indoor and outdoor to host all forms of life
---
Charline Lalanne
Paris, France
Links
Team members
Charline Lalanne
Field of work
Architecture, Design, Research
Project category
Renovation
Project submitted
2023
My journey as an architect has been shaped by my belief in the transformative potential of regenerative design. My experience living and working all around the world made me an advocate for the integration of regenerative principles across various fields. I am applying that belief into my work as a research lab manager for my architecture firm. However, my passion for regenerative design extends beyond my professional responsibilities. At present, I am immersed in studying regenerative design at Central Saint Martins, with a particular focus on cultivating a systems thinking approach. My ultimate aim is to create environments that cater to the well-being of all species within urban and built settings. By embracing the pluriverse, acknowledging and celebrating the diverse perspectives of life, I strive to foster collaboration and design solutions that transcend the traditional boundaries of architecture. One of the avenues I explore for fostering knowledge exchange and collaborative growth is through the Lina network. This invaluable platform allows me to connect with like-minded peers, enabling the exploration of novel practices and ideas. With this collective spirit, we seek to pioneer new forms of regenerative design that embody sustainability and symbiosis. As I gaze into the future, I am resolute in my mission to open my own practice, one that is dedicated to turning cutting-edge research ideas into practical reality. My focus will be on designing for the symbiocene, envisioning a harmonious coexistence between humanity and nature, where our built environment thrives symbiotically with the natural world. In conclusion, I am passionate about regenerative design not merely as a profession but as a profound calling. It is an endeavor to shape a better world for all living beings, where architecture is not just a physical manifestation but a catalyst for positive transformation. Join me in this journey as we pave the way for a more sustainable and symbiotic future.
---
The built environment primarily revolves around meeting human needs and desires. Moving away from the Anthropocene, buildings act as ecotones to connect to the environment. By recognizing ourselves as part of the biocenosis within this system, we have the capacity to actively contribute to the resilience and enhancement of our natural surroundings.
I strongly believe that the interface between the built environment and nature holds the key to promoting biodiversity rather than diminishing it. Imagine if buildings could exhibit characteristics such as "breathing," "sweating", acting as human skin, hosting life, and adapting to seasonal changes to establish a more harmonious relationship between our constructed surroundings and the natural world.
My research also focuses on these modernist buildings, which primarily serve as social housing. Their construction and design do not exhibit signs of resilience, which raises concerns about how residents would cope with temperatures as high as 50 degrees Celsius, as projected by a recent report from the Paris municipality. Those buildings are interesting for a few reasons: they represent the "machine for living" that Le Corbusier has defined. Shifting it to the concept of a living machine is a counterpoint to that concept.
Cities, including the one we inhabit, are anthropocentric constructs designed by and for humans. The question then arises: How can we shift this paradigm? If we consider the building as a unit, could the facade serve as the ecotone between our internal spaces and the external environment? Should we perceive ourselves as part of the biocenosis within this system? If so, how can we actively contribute to enhancing the resilience of our biotope?
This project aim to develop a new relationship with other species in the city through the development of building facades as ecotones. Through research, workshops and prototypes I aim to transform a traditional concrete façade to a new host for life.