Atacama Sales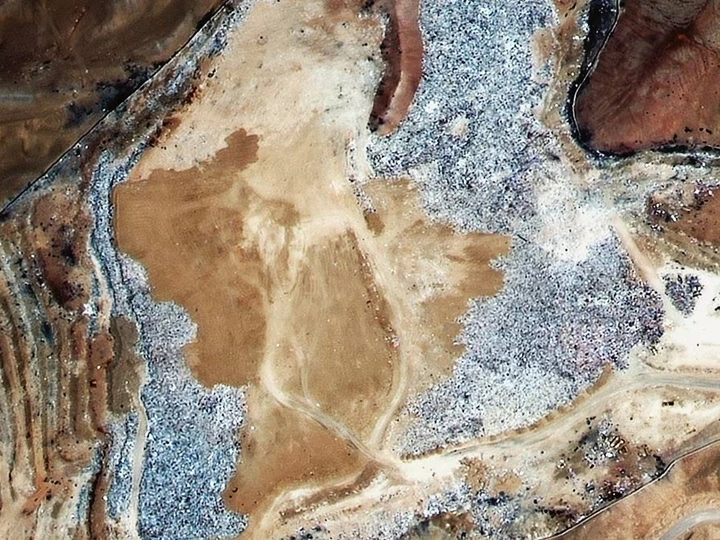 Clothes's mountains produced in Asia, traded in Europe and deposited in the chilean dessert reveal several cracks in the capitalistic dynamics.
---
Atacama Sales
Basel, Switzerland; Eindhoven, Netherlands; Santiago, Chile
Links
Team members
Juan Brunetti
Teresa Carvalheira
Javiera Robledo
Field of work
Landscape architecture, Ecology, Multimedia, Communication, Research
Project category
Material tracking and reuse
Project submitted
2023
As a group of 3 global citizens, consumers, and practitioners, we were deeply moved by the viral images of discarded clothes in the Atacama desert. All 3 of us feel very close to the issue, both to the topic and to this Chilean landscape and context. These strong feelings have propelled us into a discussion for possible points of action.
Juan and Javiera met in the architecture school in Chile; both paths took different directions. While Juan specialized himself in landscape architecture, studying a Master in that field in Germany and currently working in Studio Céline Baumann in Basel, a studio that operates in the fields of landscape architecture, urbanism, and exhibition, Javiera studied a Master in sound art in Barcelona. Currently, she is based in Chile, where she continues her research and practice in sound and space. Teresa, who studied fashion design in Lisbon and Milan, worked on several projects that criticize the fashion industry and aim for new relationships between us and our clothes. Currently, she's studying the Master of Social Design in Eindhoven.
Combining our interests in architecture, fashion design, landscape architecture, sound art, sustainability and systemic change into an interdisciplinary framework to discuss and advance the notion and possible impact of a "global closet".
We would like to experiment with more transparent, intuitive and inclusive creative processes, and especially co-participation, bridging the gap between local communities and global stakeholders.
We believe that the complexity of the topic; with its planetary impact and the multiscalarity (from body to landscape) requires not only an interdisciplinary approach, but also experimental methodologies.
---
The Atacama is part of Chilean memory as a site of raw material extraction; in the past saltpeter, now copper and in the future lithium. Nevertheless, the addition of new layers - discarded clothes - is not a new action taking place in this remote location: in Pinochet's dictatorship, several people were murdered and hidden in mass graves. In fact, by covering the landscape, the underlying desert politics get exposed. An estimated 39 thousand tonnes of clothes are discarded every year into the Atacama. In this case, this addition paradox is also that now, very sophisticated products are added to the landscape, but wasted ones, remains of the capitalist excess, with therefore no apparent added value.
Global trajectories meet again in the great desert of the Atacama. After the viralization of these images in the last 2 years, the site has been transformed: firstly into a form of dystopian tourist attraction; secondly and product of the first: into a shanty town established next to the site. After the unexpected boom of the site, local authorities decided to, once again, literally bury the problem by pouring tonnes of sand over the clothes, causing a series of spontaneous fire thanks to the high temperatures far increasing this ecological disaster and converting this territory into the perfect example of an Anthropocene-landscape.
The main question guiding our methodology of this research would then be How can we collect and translate the voices and trajectories of these discarded clothes?
Through collaborative mapping, the development of speculative design proposals and live projects (workshops and direct action), we aim at developing a processual and multimedial archive. This engaged research, grounded in its context, hopes to, in the long term, form global partnerships in and between local organizations. We hope to translate such initiatives in a way that also adds value to the global policy discussion on textile circularity and intersectional environmentalism.