Cultivating Companionship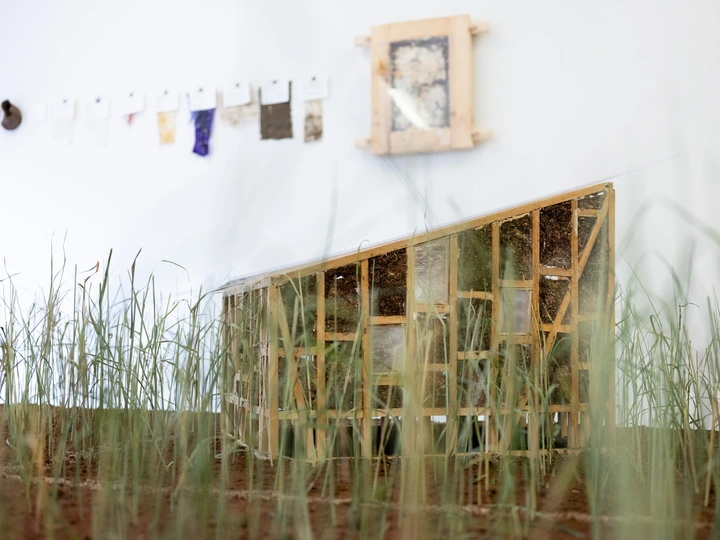 Creating conversation and communities within the cornfield, this project counters monoculture through material research and multispecies cooperation.
---
Lina Hülsmann
Den Haag, the Netherlands
Links
Team members
Lina Hülsmann
Field of work
Architecture, Design, Ecology, Curating, Research
Project category
Raising awareness
Project submitted
2023
Lina Hülsmann recently graduated with MA in Interior Architecture (INSIDE) at the KABK, Den Haag, the Netherlands after studying Interior Architecture at the University of Applied Sciences Mainz, Germany. She focuses on interactive spaces that have a playful character and stimulate an awareness of understanding nature as an equal part of the world. She has a strong interest in learning about different cultures and traditional knowledge - resulting in temporary living in India and Spain - to get to know different perspectives on society and to exchange and cooperate with others. Lina views the exchange between cultures and disciplines inside and outside the design field, as well as carefully listening in order to learn more about people's cultural backgrounds, as key to successful design.
---
Our Anthropocene mindset has alienated us from nature. To counter this, a multi-layered project grew in Bersenbrück, a village in northwest Germany. The design is a research residency that brings together people with different professions, and non-humans inside a cornfield. This proposal counters the monoculture, explorative, and market-oriented practices prevailing in the countryside today.
By emphasising local materials and traditional building methods and by encouraging community life, this project shows the potential of a cornfield that focuses on cooperation and diversity. In addition to the development of new bio-based materials, based on leftovers from corn production, it acknowledges the importance of collaborating with non-human entities. The spatial design combines traditional half-timbered structures with new materials, creating space for humans and non-humans. To cultivate companionship means to rebuild connections with the intricate ecosystems that sustain life.
The project began with research in the countryside of Bersenbrück, my family's hometown. After living abroad in places like India and Spain, I wanted to understand my own cultural backgrounds better. Therefore, I focussed on the life and materiality of the historic farmhouses, in northwest Germany, at the beginning of my master's thesis. The research question revolved around learning from my ancestors in the countryside as a spatial designer. Moreover, I explored how the current global discussion on the Post-Anthropocene could provide a theoretical foundation for my research on a philosophical level.
By engaging with the local community and delving into the soil, I developed a multi-layered project and found my passion in material research. With this project, I criticise the current situation but also respect the existing circumstances. I focus on opportunities, conversation, and a multidisciplinary, multi-species approach to sustain the project and ongoing research.