Too many homes for absent bodies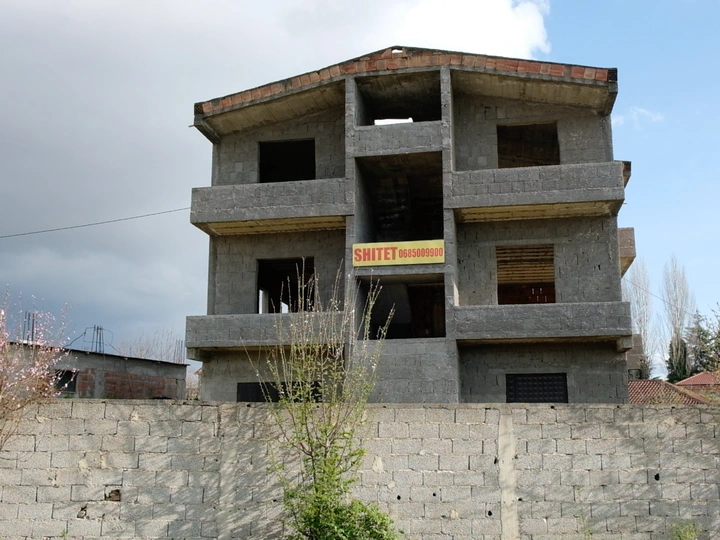 Research on the architecture shaped by remittances, within the intersection of transnational migration and spatial practices.
---
Klodiana Millona
Rotterdam, NL / Tirana, AL
Links
Team members
Klodiana Millona
Field of work
Architecture, Ecology, Visual Art, Film, Research
Project category
Urbanity
Project submitted
2023
Klodiana Millona (1990, AL) is a spatial practitioner and researcher working between Rotterdam and Tirana. She holds a Master in Interior Architecture from the Royal Academy of the Arts in the Hague and studied Sonology at the Royal Conservatoire of the Hague. She is currently a resident at Jan Van Eyck Academy (2023-24) and a fellow of the transnational research programme "A Natural Oasis" (2022-24). She is co founder of the spatial practice duo millonaliu, through which they interrogate spatial ecologies of ruptures, the politics of invisibility in space and invisibilized spatial practices within dominant narratives of the built environment.
---
Remittances — defined as part of the earnings that migrants send home in their countries of origin — were casted into concrete skeletons in the built landscape of Albania after 1990s. Flows of migrants reaching the shores of Italy and Greece, were quickly condensed in construction sites to labour cheaply in the west. As they were kept invisible under citizenship regimes, their money brought back home vizibilized in the built landscape remained the only testimonial of their existence. Never finished, as the exploitation of the migrant bodies also never saw an end, these houses created a new typology of architecture in Albania, built vernacularly, in extended periods of time. 
These skeletal beginnings mark interrupted desires laboured through the ending of bodies. A desire to be at home while labouring (to being) far away from home. Bodies of legal and illegal migrants both here and there, neither here or there, working to stay, working to move; to make a home, to move from home(land) exploited within other (foreign) homes. Euros turned concrete, earned on broken limbs, uninsured construction workers, uninterruptedly dying on the scaffolding skeletons of construction sites in the west. 
In my research I am interested in the intersection of transnational migration and spatial practices which stretch from the geographies of centre (the west) where the money is sent and where bodies are labouring to that of where homing is made hostile and liveability impossible (the east).
As such I want to read the practice of home making from a far as a site of resistance to the doubled subjugation of impossibility of inhabiting, from both nationstate violent politics within the home country and institutional citizenship practices of migrant exploitation in the west; looking beyond the materiality of the typology of building that remittances shape, but to the different multi sited spaces it creates as a continuous interrupted never finished practice of homemaking.