Echoes of Rome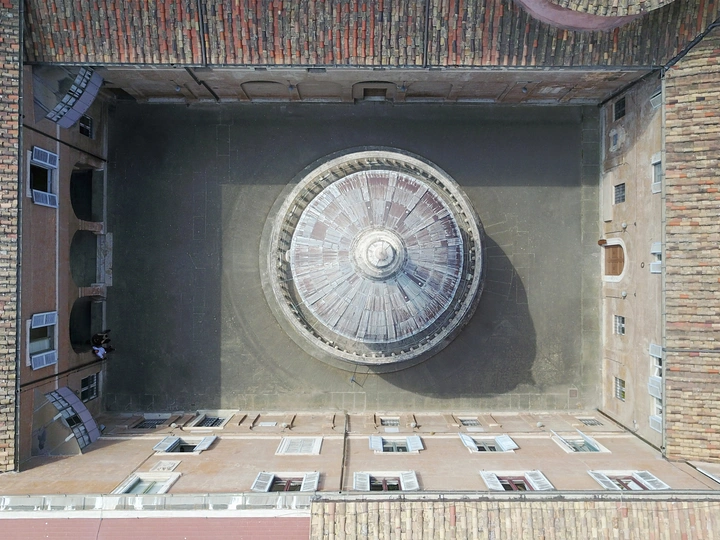 A research, a book and an exhibition, which bring together the personal gazes of more than 50 fellows at the Spanish Academy in Rome over 150 years.
---
Federica Andreoni
Ancona, Italy
Links
Team members
Federica Andreoni
Field of work
Architecture, Curating, Research
Project category
Urbanity
Project submitted
2023
Federica Andreoni (1987). PhD Architect.
Trained between Roma, São Paulo, Santiago de Chile, Porto and Milan. I deal with cultural management and independent research on architecture and art.
As cultural manager I have been working since 2018 for the Real Academia de España in Rome, a cultural institution (which includes a museum, an artistic residence, the monumental complex of San Pietro in Montorio).With the role of main coordinator: the exhibition Trame Della Memoria. Architectural Interventions on the Heritage by Enric Miralles and Benedetta Tagliabue EMBT 1992-2022, a project by Fundació Enric Miralles; the project Lavarse las Manos by Regina José Galindo, 2019/20, the project A quel Paese by Rogelio Lopez Cuenca, 2020/21.
Since 2020 I am the head of the Architecture Public Program of the Real Academia de España in Rome. In the last 3 years I coordinated events with guests such as: Juan Navarro Baldeweg, Maruša Zorec, Carme Pinós, Benedetta Tagliabue, Renato Bocchi, Barozzi-Veiga, Toni Girones, Elisa Valero Ramos, Ted'a arquitectes, H Arquitects, Iñaqui Carnicero, Annalisa Metta, Marco Armiero, Adamo-Faiden, Jordi Bellmunt.
As an architect, I was a founding partner of Studio Gnomone (2013-2021), with which she won competitions including Europan14 and DMKM278 and developed projects for MAXXI and the Municipality of Amsterdam. I won the National Council of Architects award for Best installation work 2019 and in 2020 I was included among the "Best Italian Architects and Designers Under 40" by PLATFORM magazine.
My research work has been recognized in Italy and abroad, with scholarships and prizes. I developed a research project on public spaces in Sao Paulo for my PhD between Rome and Sao Paulo. In 2019-20 I was the winner of BAGLIORE: a program of artistic residencies for writers under 35 for a cultural biography of Italy: a 5-month journey concluded with a book-investigation on new cultural centers published by Il Saggiatore.
---
The project is conceived as an architectural guide to the city of Rome, an unpublished atlas through the personal views of architecture's fellows throughout the 150 years of the Spanish Academy's existence, in order to to give everyone a very rich and unique vision.
It could be a very useful tool for a large range of audiences: architecture students, architects traveling to Rome, new fellows from all foreign academies in Rome, researchers... and also aspires to be a useful instrument also for a diverse and not necessarily specialized public.
The objective is to constitute a map of more than 100 architectures, both historical and contemporary, of the city of Rome (buildings, places, spaces, details, etc.) suggested and commented on by those who have had the opportunity to experience it intensely. Likewise, the publication will also have unpublished material from the archive of the Spanish Academy and the San Fernando Academy of Fine Arts.
The book includes material from, among others, Rafael Moneo, Luis Mansilla, Fernando Mercadal, Ramón Molezún, Francisco Carvajal, Pedro Feduchi, Elisa Valero.
The research brings together a large variety of personal vision material on Rome: drawings, sketches, texts, anecdotes, photographs, maps, etc.
The material is collected by architectural elements (window, door, ground, roof…) and is accompanied by a map of Rome, like a real guide.
It is also accompanied by a section of travel itineraries, designed both as day trips out of town and as architectural-themed trips throughout Italy. The itineraries follow the journeys made by the scholarship holders over 150 years and are accompanied by postcards, photos, and unpublished material.
The project is supported by Fundación Arquia, with the collaboration of the Spanish Academy in Rome and is scientifically coordinated by Federica Andreoni.
Currently under development, it is expected to be published at the end of the year 2023.