Psychosomatic Spatial Research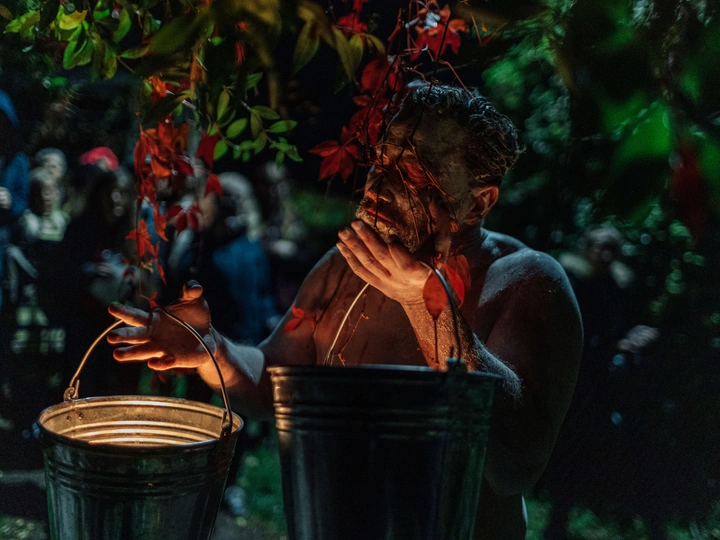 The project focuses on the development of psychosomatic research as a tool, skill and method for environmental exploration.
---
Links
Team members
Viktor Fucek
Field of work
Architecture, Urban planning, Landscape architecture, Visual Art, Research
Project category
Raising awareness
Project submitted
2023
I am an urban shaman, healer, and fortuneteller who uses ritual to explore the consciousness of space. For this purpose, I create performances, paintings, and installations that push the boundaries of what is usually perceived as architecture and show how experimental practices can help to find new strategies to solve the problems of contemporary society. I studied fine arts at the Academy of Fine Arts in Prague, the Australian National University in Canberra, the University of Applied Arts in Vienna, the Academy of Fine Arts in Bratislava, and architecture at the Slovak University of Technology in Bratislava. In 2022 I successfully completed my doctorate at the Academy of Arts in Slovakia with the dissertation research "Architecture of Internal Relations" focusing on the interconnections between performance and architecture. I have participated in several solo and collective exhibitions, such as Perceiving (Com)position (Taiwan, 2022), MoMafiction (New York, 2022), Prague Biennale (CZ, 2021), The Fortuneteller and Healer (New York, USA, 2019). I have also been a finalist for several awards such as Oskar Cepan Award for Slovak emerging artists (2015), Bloomers Award nominee (Germany, 2018), Arte Laguna Artprize (Venice IT, 2014). Currently, I am an assistant professor at the Faculty of Fine Arts, Academy of Arts in Slovakia, and a researcher on the project of emergent subjectivities in trans-urban space at the University of Applied Arts in Vienna. I am also an active member of the Public Space Lab in Prague, which focuses on alternative approaches to public space.
---
The Psychosomatic Spatial Research project aims to develop an experiential and creative set of skills, tools and experiences that integrate somatic intelligence to access place. It focuses on the possibilities of somatic exploration of spatial qualities using performance as a tool for thinking about architecture and urbanism as a spatial and design profession with a broad socio-cultural and political scope. For spatial design, performative spatial research can serve as a method of accessing the site and as a tool for gathering inputs with transformative potential. It is a living way of thinking about a place that is involved in a relational network, it is applicable to the research of place through experience, where the significant entry point is perception and feeling. The protagonists are ultimately all the participants who are users, whether they are human or non-human creatures. This change of perspective to a shared space brings with it a much needed social transformation. The focus on space as a generator of emotional and visceral states promotes a transformation of subjectivity towards an internalized change, towards new horizons of the shared global sphere. The performative research of sites, the collection of data and input activates deeper layers of perception, empathy and cultivates understanding in specific contexts.