Zhahan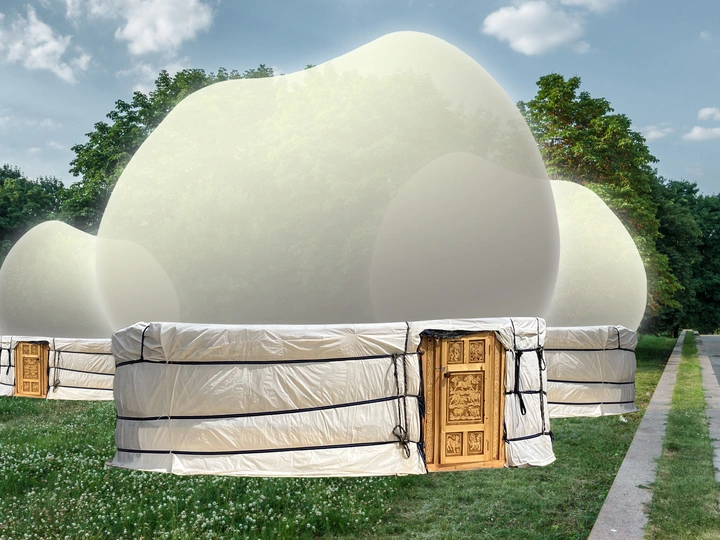 For the scenario of unplanned migration, we propose the Futuristic Yurt "Zhahan", a portable and sustainable home as a manifest of minimalism and care
---
Links
Team members
Denis Esakov
Maria Kremer
Field of work
Architecture, Design, Research
Project category
Raising awareness
Project submitted
2022
ZVON is a collective of likeminded architects, designers and artists, critically confronting the built and unbuilt environment. We are interested in exploring the connection between our origins (Kazakhstan, Russia, Kyrgyzstan) and the international experiences which have shaped us working in Germany, Spain and Russia. Work of ZVON was exhibited at Tbilisi Architecture Biennial 2018, at the virtual reality art gallery, AA London, DesignLab Moabit (Berlin) and in Het Nieuwe Instituut in Rotterdam.
---
Due to Climate Change and related weather extremes a significant portion of habitable and agricultural land might be lost. Thus, unplanned population migration, both regional and across borders, will emerge. New conflicts because of resource and land shortage might arise.
This will lead to the increased appearance of climate migrants, refugees from natural catastrophes and resource conflict. Thus, a more nomadic, less permanent lifestyle seems to be inevitable.
Current social and economic relations must be reconsidered - voices that have been suppressed and are still unheard should regain their space.
In the language of Kazakhs nomads there are several words for the land and one of them is Zhahan (kaz. жаһан, turkic meaning is world). It is very close to the ancient Greek word kόσμος (cosmos), a natural self-regulating order that does not require human construction. Hearing Zhahan is vital -
Zhahan speaks to a nomad about how to build relations with nature and the surroundings. Zhahan embraces the Home.
For us home is a space of radical hospitality. Not just a shelter, not a roof over our head, not only four walls. This is a space where our relationship with the Other first begins.
Radical hospitality is the ability to share, to be open, to find one's power in connecting with Others. It is the everyday experience of discovering one's own self in Others and vice versa, of Others in oneself. At the core of our Home is openness, care, and the ability to listen.
Therefore, we propose the Futuristic Yurt "Zhahan" as an alternative scenario for both a personal portable home as well as a space for gathering and radical hospitality.
The Yurt symbolizes both a connection to our collective past and a minimalist, anti- consumerist and non-capitalist way of living. The nomadic lifestyle is both critical to the ownership of land and the accumulation of wasteful goods.