Urban Renewal of Portalegre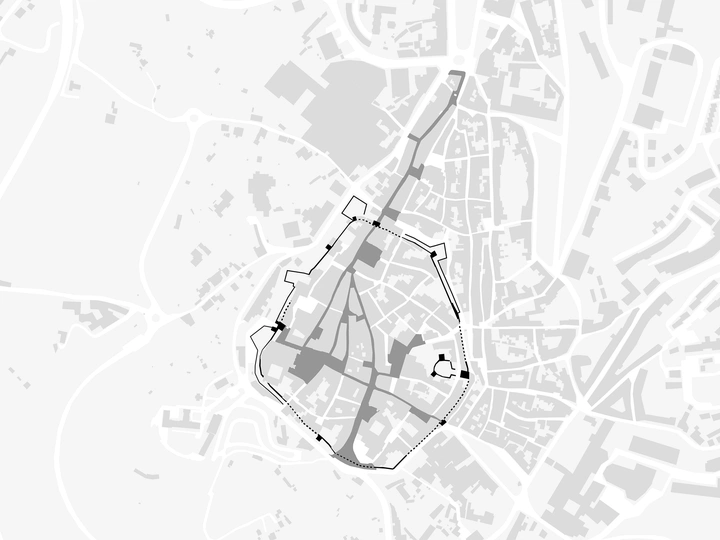 A proposal for enhancing the quality of the public realm in the historic centre of Portalegre, a small city in the south of Portugal.
---
Atelier 17
Lisbon, Portugal
Links
Team members
Sara Brandão
Nuno Castro Caldas
Field of work
Architecture, Design, Urban planning, Research
Project category
Public space
Project submitted
2023
Among other projects in different times and geographies, Atelier 17 is an architectural practice created between London and Lisbon in the last days of 2017.
Having studied Architecture in a country of a rich architectural heritage, but of scarce economic means, we believe that the discipline goes beyond borders and cultural differences, affirming itself as a collective learning process with centuries of history. The years we spent in different latitudes allowed us to understand the profession from multiple points of view and absorb what we think are the transversal aspects of Architecture: light, the passage of time, the scale of Man. Carrying this knowledge to the projects we work on, we seek to find the solutions that adapt to the specific place, context and needs of each project.
---
Since the creation of first settlements, public space is (due to its nature) the most democratic of all spaces and a collective representation of the city and its inhabitants' will. This proposal aims to reiterate the importance of public space as a collective heritage.
The focus of the intervention is the historical centre of Portalegre in Portugal, characterised by the complexity of its structure with several small squares and narrow streets and punctuated by beautiful historical assets. The proposal aims to accentuate the idea of a pedestrian axis through the articulation of public space, by extending walkways and creating ramps or stairs where access is uneven. Car access is removed from the main squares, making them places that invite people to stay rather than just walk through. Among the many factors that contribute to the unification of this intricate urban structure, the pavement is one of the most important. Through the use of local granite and the creation of new landscaped areas, the city identity is emphasised.
It is intended to make this not only a circulation axis, but also a privileged space for the development of social events, cultural and civic activities, that favors a pedestrian system in relation to the existing car orientated system. The main goal is to make it as pleasant as possible for those wandering around the historic city fabric, whether they are locals or occasional visitors.