MYRIOPHYLLUM SPICATUM LAB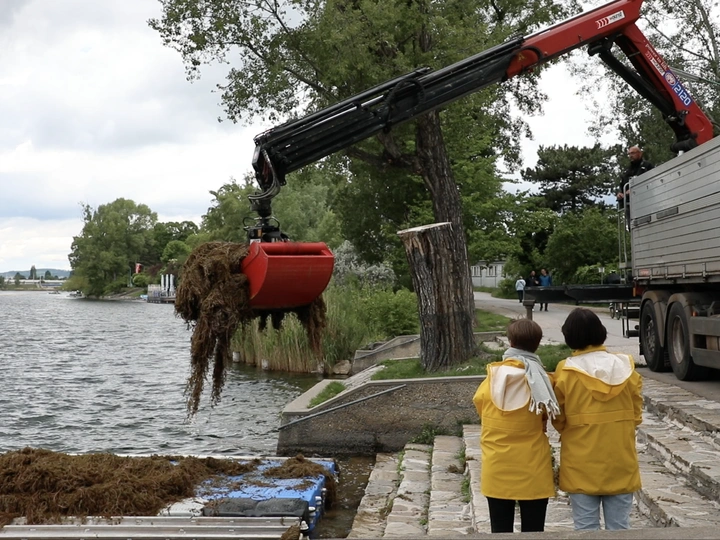 'Viennese Vegan Caviar' made from invasive underwater plants as a starting point for further material investigations with macrophytes
---
Anastasia Eggers & Ottonie von Roeder (egg&roe)
Vienna, Austria and other places where the underwater plant species is present
Links
Team members
Anastasia Eggers
Ottonie von Roeder
Field of work
Design, Research
Project category
Rural spaces
Project submitted
2022
Anastasia Eggers and Ottonie von Roeder are an occasional design-duo working in the field of speculative and critical design and design research. In their practice, they use research, speculation and playfulness to understand and question existing cultural, societal and political systems and structures and create narratives around them using various media such as video, installation and visual design.
---
The city of Vienna removes approximately 2.600 tons of invasive underwater plants per year from the Old Danube to make swimming and boating possible. Being part of the Lina Community, the mowed and edible underwater plants of Myriophyllum Spicatum will be collected to experiment with it and to use it as an alternative material resource, questioning the use of the bio waste from a plant having positive implications on the environment in the urban space.
In 2021 we started to experiment with Myriophyllum Spicatum during the Viennese Caviar Goes Vegan project as part of the EAT LOVE program during the Vienna Biennale for Change 2021, curated by Urban Think Tank and supported by the Vienna Business Agency. Within the Viennese Caviar goes Vegan project we produced local fake fish roe from edible underwater plants that are mowed in the Old Danube. During workshops and excursions we collected the underwater plant, developed a first recipe and had a series of discussions around it with sturgeon conservators, material researchers, (non-vegan) caviar manufacturers, and vegan fish enthusiasts. Now we would on one hand like to spread the open source recipe, and invite people from Vienna and beyond to participate in the making of the caviar. At the same time, we would like to have an opportunity to further explore the other qualities of the underwater plant and develop material tests and prototypes in collaboration with the participants and experts from other fields in the Myriophyllum Spicatum Lab. The aim of the activities at the Myriophyllum Spicatum Lab would be to share the existing expertise around the waste underwater plant and to generate new knowledge around it. Like that, we will share the process of democratizing luxurious products, giving everybody the possibility to manufacture them out of a commodity that is considered waste, but giving it a new value due to its locality.