MoMi - modular dwelling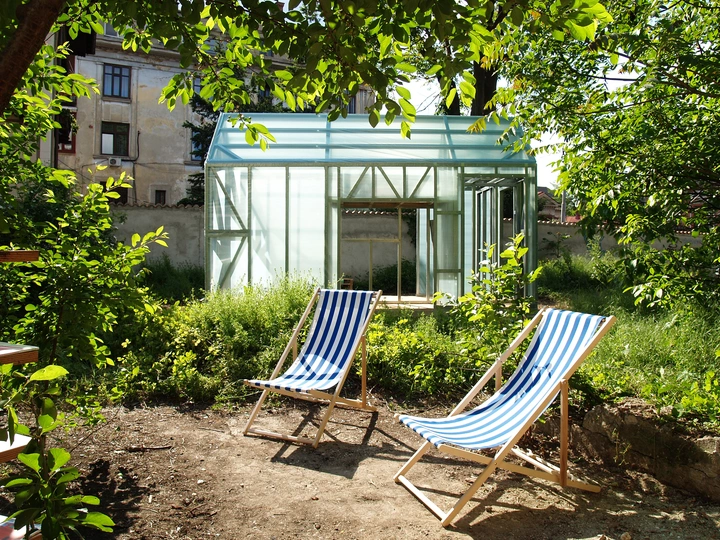 MoMi is a modular dwelling designed for living as much as possible outside the house itself, a delight of nature & connection to the space around.
---
Republic of Architects
Bucharest, Romania
Links
Field of work
Architecture, Design, Research
Project category
Raising awareness
Project submitted
2022
architecture studio based in Bucharest, Romania
---
Imagine a garden where trees blossom, you can sleep beneath an acacia, read under the moonlight. This is living in the garden.
Created as a counterpoint for individual garden that are popular today, MoMi is a modular living unit designed for living as much as possible outside the house. By its condensed form, MoMi creates free natural space to enjoy nature and connect to the public space. The garden becomes a board game where living happens, with specific mobile furniture and slightly still objects, like MoMi living units.
MoMi is a small big house: minimum use of materials maximum space. It save resources for execution and maintenance and designed to be realized in a workshop, transported as a caravan and gently be placed in the garden. MoMi has a single shape but it can have different specific furniture for preparing food, sleeping, washing, storage for the unit and for the garden, writing, reading.
MoMi treasures luxury in specific details, but the main luxury is about freedom of choice. The user can choose between different equipments for the unit or for the specific furniture for the garden. All of these are to be placed in the natural environment of the garden considering the connection with the outside: how the sunlight comes in, the smell of the flowers, the color of the trees, the way the unit is connected to the public space.