Heritage Voices, Urban Choices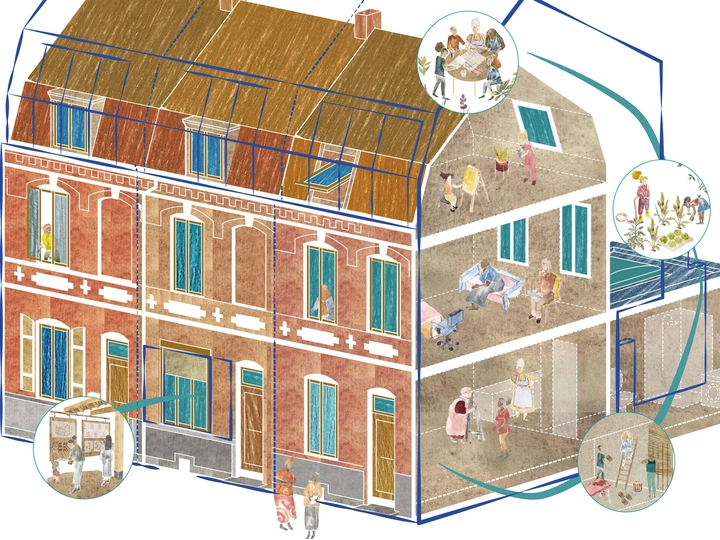 The revitalization of working-class houses in Roubaix : from self-build to self-determination how architecture empowers working class voices ?
---
Links
Team members
Assia Ghani
Melina Ndoumbe
Field of work
Architecture
Project category
Renovation
Project submitted
2023
We are Assia and Mélina, two architects from the North of France.
We think that we can use urban planning and architecture as a tool to cure the colonial violence and capitalist strategy that people are still suffering from, all over the world.
We want to tackle the issues of dispossession, marginalization, assimilation and gentrification by reconnecting people to their roots and by highlighting their narratives.
Our project "Heritage Voice, Urban Choices" is an attempt to readapt ancient working-class houses of Roubaix to contemporary inhabitants, mostly descendants of immigrants. Our true aim is to reveal and use local inhabitants practices in order to propose suitable living transformations
---
"The Creative House" was born out of a reflection on the potential offered by our homes in the post-COVID period. It focuses on the revitalization of the working-class houses in Roubaix, a major center of French textile production since the late 19th century, whose urbanization resulted from a policy of maximizing land holdings, resulting in unique urban forms (narrow, repetitive, courtyard-based).

In addition to a construction approach focused on the possibility of reclaiming a garden (previously used as underutilized self-built space), and proposing new housing typologies through different interior partitioning while reflecting on the opening up of a previously secluded block, the project aims to draw upon a methodology derived from the population lived space's practices. People are no longer workers from factories but an amount of social and cultural backgrounds due to the migratory movements of the past 60 years.
From this perspective, the reflection is based on the hypothesis of observing a certain category of residents that seem to be disconnected from the redevelopment urban programs of the spaces they are living in, which are undergoing a gradual gentrification.
The project aims to give voice to the "popular" neighborhoods inhabitants in the Lille metropolis, whose issues resonate with those experienced by other suburban areas in France, born out of the new town construction dynamics since the 1980's.
Through the history, traditions, and know-how that form the cultural foundation of the new inhabitants of the working-class houses, the "Creative House" project seeks to provide empowerment tools enabling them to define their living space and, more broadly, to contribute concrete reflective material to the urban approach based on real needs.
It becomes necessary to give a new dimension to the usual "social mix" that we constantly advocate for but never truly realize, finding its foundations in the collective narrative.