Ips Typographus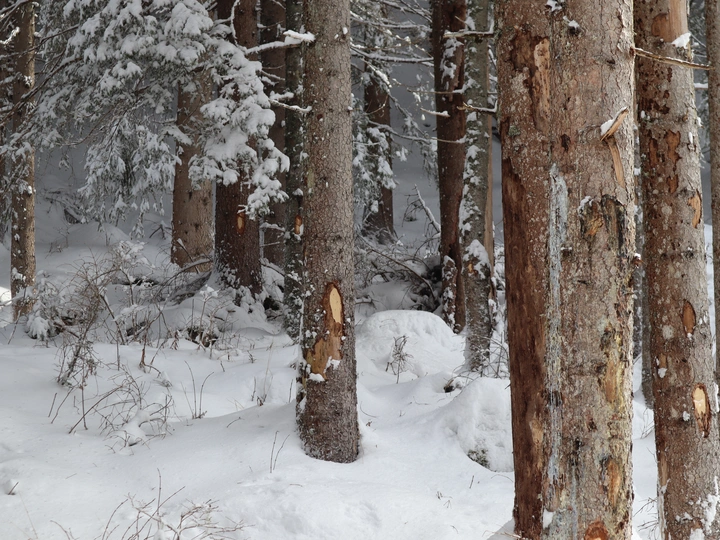 The film explores non-human life's adaptations and interdependencies in intense human-influenced forests.
---
Shiila Infriccioli
San Benedetto del Tronto, 63074 (AP), Italy
Links
Team members
Shiila Infriccioli
Field of work
Design, Landscape architecture, Ecology, Visual Art, Research
Project category
Raising awareness
Project submitted
2023
Shiila Infriccioli is a Designer and a Researcher based in Italy. She holds a BA in Art & Design (Bolzano, IT) and a cum laude MA in Interior Architecture: Research + Design (Rotterdam, NL). Her creative practice investigates the relationship between digital technologies and materials in current and future ecological change. More specifically, her research practice explores interrelated aspects of intense human-influenced landscapes. Through representational strategies and a non-anthropocentric narrative her creative work gives voice to nonhuman beings with the goal of promoting coexistence. In the course of her studies, she worked as a Teaching Assistant at MA level (2021-2022) and she has collaborated with European professionals and studios in the field (multimedia art, landscape architecture and research) such as Studio Ossidiana, Cooking Sections, Andrea Bagnato, Angela Rui and many more. During her early career she developed several projects at the intersection of art and design (https//:shiilainfriccioli.com). Her works, exhibited and appreciated on a national and European level, consist of visual images, installations, digital environments and publications that combine ecology, research and technology.
Her recent film "Ips Typographus," on her research on the bark beetle epidemic currently spreading in the Italian Alps, is currently screening at the ADI Design Museum in Milan for "ITALY: A New Collective Landscape" (April-September 2023). On the same topic, her essay "Revealing the Traces of the Ips Typographus Epidemic in Fiemme Valley" got published in July for the periodical Spatial Folders, "Extraction - A Trans-Scalar Inquiry" (foreword by Jane Redell), and her essay "Deconstructing the Dolomites Landscape: Vaia Storm Case" will be published on the next issue of Log (more info on the publisher on (https://www.anycorp.com/about-anyone-corporation).
---
I dedicated my practice as a designer and researcher to study ecosystems disruptions and insect epidemics parallel to understand how visual methodologies and aesthetics can promote co-existence and non-human intelligence. I have already published a relevant body of work: essays, field and archival research, videography, 3D simulations, and photography.
My research project "Bark Beetles Weren't a Menace until Humans Turned Them into One" denounces the current ecological state of the Italian forests located in the Alps. It addresses the current spreading of the bark beetle epidemic as the result of human exploitative actions. In these locations, the beetle infestation is ongoing and currently damaged around 7000 hectares of fir forests, producing an overall economic damage of 350'000 billion euros.
Through field research, writing, and the creation of microscopic digital scenarios, the project explores new perspectives on the natural world, re-interpretating the forest landscape through its micro-materiality. It proposes an imaginative and research effort with the aim to spread awareness and overcome the exploitative anthropocentric understanding of trees which must not be seen as a mere consumerism wood products but as a living endangered organisms.
I would like to draw attention and create awareness on this case study since is an indication of a much larger scale ecological problem, which is affecting a lot of other forests environments around the world. In fact the bark beetle transforms into an epidemic force with a massive impact when the original forest tissue is disrupted, so the beetles' specificity makes them enemies of monoculture forests, the one with trees of a single species, all at the same growth stage: the one specifically designed for massive timber extraction. I therefore would need support to work on a strategy to scale the visibility of the research and make it grow into its full potential of awareness.