Territorial Acupuncture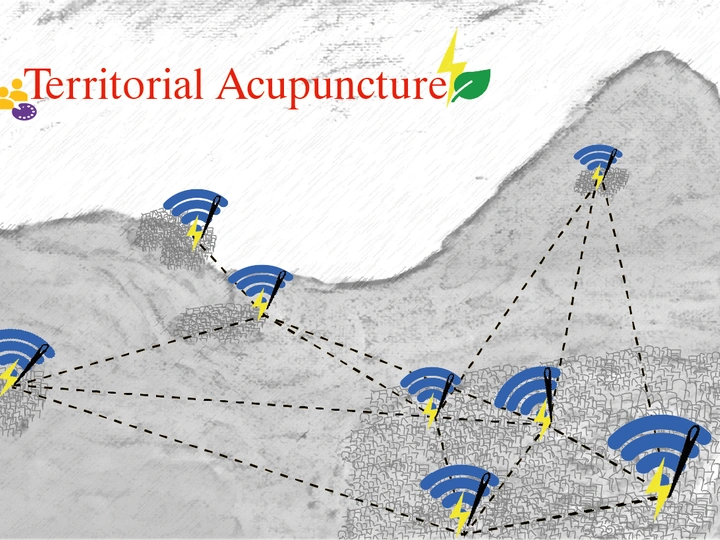 New spatial planning practice that through the creation of a Eco-PED network aims to change the energy and socio-economic dynamics of territories.
---
Research group on Territorial Acupuncture. PhD study of Federica Leone. Dicar -University od Catania
Catania, Italy
Links
Team members
Vincenzo Costanzo
Federica Leone
Fausto Carmelo Nigrelli
Francesco Nocera
Field of work
Urban planning, Landscape architecture, Engineering, Curating, Research
Project category
Energy
Project submitted
2023
The research team consist of PhD student Federica Leone and her tutors: Professors Fausto Carmelo Nigrelli, Francesco Nocera and Vincenzo Costanzo.
Federica Leone is an architect, currently working on spatial and urban planning, redevelopment of inland areas, energy communities and eco-neighbourhoods. In the past, she has also worked on UHI, exhibition design (Yayoi Kusama), museum design and adobe objects. Her collaborations include the HAM Museum, the VTT research centre and oigaestudio. Her varied background gives her an innovative outlook and an easy multidisciplinary approach to the topics she deals with.
Fausto Carmelo Nigrelli, engineer, PhD in Urban and Territorial Planning(1996), is full professor of Urban Planning and Technique, and Territory and Landscape workshop, in the Degree Course of Architecture at the University of Catania.
He is President of the Special Teaching Structure of Syracuse (2021-2024).
Francesco Nocera is an engineer, PhD Applied Physics 2002 at University of Palermo. Since 2018, he is Associate Professor of Building Physics and Building Energy Systems at UdC. Honorary Member of National Association for the Thermal and Acoustic Insulation. University's Delegate for UN Sustainable Development Solutions Network. Best Research Paper Award in KES-SEB (2014) conference.
Vincenzo Costanzo is an engineer and assistant professor at the University of Catania. The overall objective of his research work is to provide better environmental conditions for people while improving their thermal and visual experience. His research interests therefore range from thermal and visual comfort in closed and open spaces, to the study of feasible strategies to reduce the energy needs of buildings - both at the scale of individual buildings and urban agglomerations - and to generate renewable energy from solar systems.
The group has been working together for years, first on UHI and currently on the definition of territorial acupuncture.
---
Territorial Acupuncture is the result of the fusion of different theories and procedures, such as Biourbanism, urban acupuncture, energy community design, new technological-artistic practices. For Territorial Acupuncture, the territory is conceived as a single organism and, just like acupuncture in traditional Chinese medicine, punctual interventions (in this case, interconnected energy communities) would benefit the entire territory organism. In order to make the theory work properly, it will be necessary to carry out multi-scalar and multi-disciplinary analyses on the entire territory to identify intervention points and then proceed to the design and interconnection of the individual district. In these phases, communication with the population is very important, as well as a focus on artistic ambitions.
Through the application of territorial acupuncture, it would thus be possible to plan a micro-invasive transition towards a new land settlement and energy production model, while at the same time changing the energy and socio-economic dynamics that exist between large metropolitan and inland areas.
Initially, the focus was on the engineering aspects with an emphasis on the technological and energy aspects. This period saw close collaboration with the VTT research centre, the Sparcs programme and Annex83 of IEA EBC. Now, the focus is shifting to the social and artistic aspects, trying to promote the theory and seek to realise real neighbourhood workshops or participatory art installations.
Pubblications:
Leone, F.; Hasan, A.; Reda, F.; Rehman, H.u.; Nigrelli, F.C.; Nocera, F.; Costanzo, V. Supporting Cities towards Carbon Neutral Transition through Territorial Acupuncture. Sustainability 2023, 15, 4046. https://doi.org/10.3390/su15054046
LeoneF., NigrelliF., NoceraF., & CostanzoV. (2023). Agopuntura territoriale: benefici e limiti dei network di comunità energetiche. BDC, 22(2), 271-289. https://doi.org/10.6093/2284-4732/10100