Terrestrial Field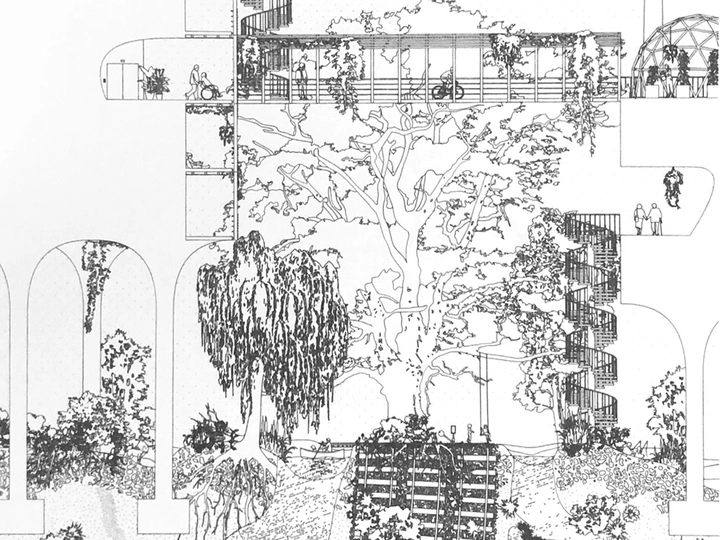 A speculative exploration towards the urban future amidst the climate crisis.
---
asphalt kollektiv
Vienna, Austria
Links
Team members
Natascha Peinsipp
Felix Steinhoff
Field of work
Architecture, Urban planning, Ecology, Film, Research
Project category
Urbanity
Project submitted
2023
The asphalt kollektiv is an interdisciplinary collective that operates in the fields of research, teaching, theory, and building practice. We develop, plan and design at different scales. Our work include architectural concepts, plans of all kinds, temporary installations, small and large objects, films and texts. We studied in Stuttgart, Graz, Istanbul and Lisbon and graduated from the Academy of Fine Arts Vienna. Currently, we teach architecture at the Technical University Vienna and the University of Art and Design Linz.
We enjoy discovering and working with the existing potential of spaces. Sustainable utilization of space and material plays a recurring role in our practice. We belong to the young generation of practitioners who are working on a change in architecture and the building industry towards a socially, economically and ecologically fair and sustainable practice.
Currently we are curating and designing the exhibition "Back and Forth Cost Estimates, Breastfeeding and Turnaround Strategies – Positions of our Generation" among other young architects from Austria at the Architekturzentrum Wien. The exhibition shows what is on the minds of the emerging generation of Austrian architects.
---
The Terrestial Fields project is a speculative exploration of shifts in social conceptions of the city in transition.
It describes an area created by the continuous process of restructuring the city, gradually placing various territories of the city under protection. The creation of the Terrestrial Fields addresses the current issues determining urban development, such as climate change, densification, mixed use, and the intensifying question of housing.
As a critical zone, the Terrestrial Fields include the processes in the earth, the vegetation on the earth's surface, and the urban development lifted above it. Thus, they establish a dialogue of humans, animals, and nature. This synthesis enables a simultaneous densification and landscaping of the city. As a real laboratory, model areas are thus created in direct proximity to humans, places of co-evolution, between humans, animals and plants - which on a larger scale form a habitat for all species. The city as a hybrid of people and nature.
In addition to a collection of texts, four large-scale pencil drawings have been created for the project, depicting a possible optimistic future of the city.