The Second Life of Architecture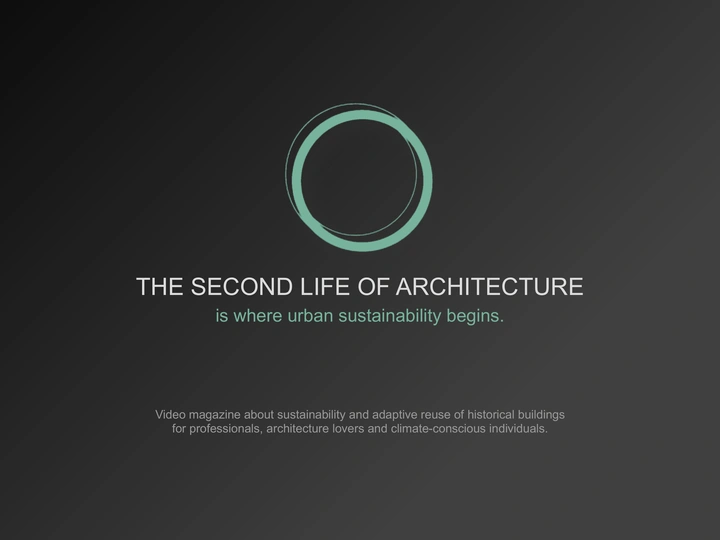 Video magazine about sustainability and adaptive reuse of historical buildings for professionals, archilovers and climate-conscious individuals.
---
Mila Titova
Lisbon, Portugal
Links
Team members
Mila Titova
Field of work
Architecture, Design, Ecology, Film, Communication
Project category
Raising awareness
Project submitted
2023
Founder, MT.A | Architect | PhD, Universidade de Lisboa
Hello, I am Mila Titova, founder of MT.A, an architectural studio in Lisbon, Portugal, specializing in architecture and interior design for business and private clients. Our studio has received awards and nominations, including "Building of the Year" recognition by ArchDaily and Dezeen.
With over a decade of professional experience, in 2016 I founded MT.A. My expertise lies in tactfully adapting historical buildings to new functions through adaptive reuse. As a result, I developed a unique methodology during my PhD studies at Universidade de Lisboa.
Previously, I had the privilege of teaching architectural design for three years at MARHI with my outstanding colleague Vsevolod Kulish. My passion for promoting dialog between professionals and society has led me to speak at prestigious cultural events such as DenkMal, TICCIH by UNESCO (in France 2014 and Chile 2018) and the St. Petersburg Cultural Forum.
I dream of creating a video magazine (vlog) about the global practice of adaptive reuse, not only from the technical side, but mainly from the perspective of historic preservation philosophy, new construction integration, and sustainability implications. At the moment I am looking for investments for this cultural project called "The Second Life of Architecture" and running an Instagram account in this field.
---
The startup project "SECOND LIFE OF ARCHITECTURE" is a video magazine about the adaptive reuse of historic buildings in Portugal and around the world.
Why is the adaptation of buildings sustainable? The revitalization of existing buildings is a zero point in the construction industry pyramide. The adaptive reuse of historic buildings is a sustainable approach to architecture because it reduces the need for new construction and the associated resource consumption, energy use and carbon emissions.
The goal of the video magazine is to popularise the topic of adaptive reuse, the technologies, aesthetics, and cultural philosophy behind the process. We believe that this will increase the investment attractiveness of architectural projects and have a great impact on creating more efficient and livable spaces, while preserving our cultural heritage through sustainability.
There are two formats of videos:
- up to 1 min: interviews (shorts, reels), Industry leaders answer a
provocative question;
- up to 7 min: High quality video format with a tour of the building and a voice-over describing the features of the project;
Framework (ideal):
Year 1: Vblog
Location: Portugal
>1min videos: 2 /week
>7min videos: 20/year
Views: 50К/monthly
YouTube, TikTok, Instagram
Year 2: WEB platform
Location: PT+EU
>1min videos: 2 /week
>7min videos: 20/year
Views: 490К/monthly
YouTube, TikTok, Instagram, WEB
Year 3: Marketplace
Location: PT+EU
>1min videos: 2 /week
>7min videos: 20/year
Views: 1,1M/monthly
YouTube, TikTok, Instagram, WEB, E-commerce
Year 4: AWARD launch
Location: EU+UK
>1min videos: 4 /week
>7min videos: 20/year
Views: 2,6M/monthly
YouTube, TikTok, Instagram, WEB, E-commerce, Award
Year 5: ED tech
Location: EU+UK+USA_LATAM
>1min videos: 4 /week
>7min videos: 20/year
Views: 6M/monthly
YouTube, TikTok, Instagram, WEB, E-commerce, Award, Talks