Methodology Dictionary: Modus OperanDi(em)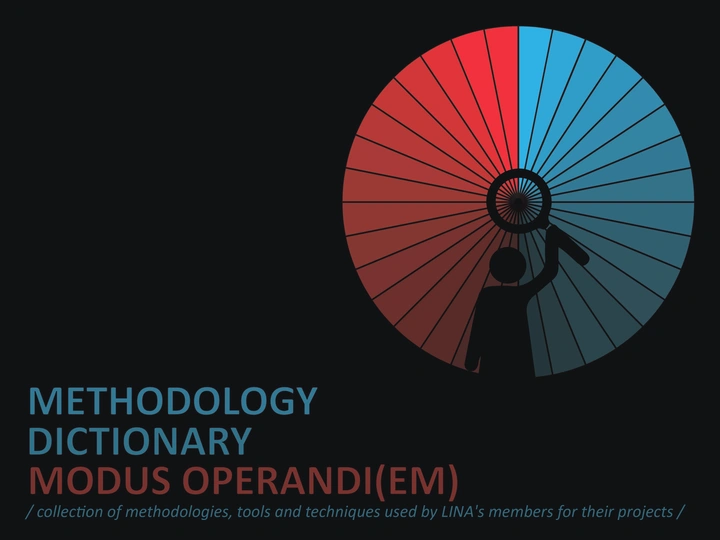 Sharing Methods, Inspiring Innovation
---
Barbara Babić
Rijeka, Croatia
Links
Team members
Barbara Babić
Field of work
Architecture, Design, Visual Art, Multimedia, Research
Project category
Raising awareness
Project submitted
2023
As a motivated and enthusiastic young professional, I have cultivated a diverse educational and professional background. After obtaining my bachelor's degree in Science of Architecture from Università Iuav di Venezia in Italy, I went on to complete a master's degree in New Technologies for Arts from Accademia di Belle Arti di Venezia. Eager to broaden my horizons, I spent an exchange year at Cardiff Metropolitan University in the UK studying Artist Designer: Maker. I then achieved a second master's degree in Architecture from Politecnico di Milano, which included an exchange at the Universidad Torcuato Di Tella in Buenos Aires.
Throughout my studies, I pursued valuable internship opportunities in architecture firms in Italy and Croatia. After graduation, I returned home to Croatia to assist my family's tourism business during the challenges of the pandemic where I am now managing 7 apartments. I demonstrated determination and versatility by taking on diverse roles the over the last three years from marketing, to management, to guest communication. This experience revealed my ability to adapt and persevere in difficult circumstances. I showed determination, adaptability and a strong work ethic during this challenging time.
I am multilingual and have an advanced command of English, Italian, and Spanish in addition to Croatian as my native language. I have skills in design software as well. My background features diverse interests ranging from architecture and design to sports, which reflects my energetic and well-rounded personality. I am ready to bring my international perspective, resilience, and willingness to learn to a new professional challenge.
I am now seeking an opportunity that aligns with my passion for design and architecture, while allowing me to continue growing my knowledge and skill set. I am motivated to contribute my resourcefulness, dedication and collaborative spirit as a LINA fellow.
---
The Lina Community consists of 32 members across 25 countries and 30 cities engaged in architecture and design projects on topics like urban renewal, design thinking, collaboration, and art. Their work employs educational programs, events, and publications. To understand their creative processes, I propose the research project Modus OperanDi(em) to document and compare methodologies used across the Community. Research activities like site visits, interviews, surveys, and workshops will uncover how members approach topics from initial questions to final execution. The findings will be synthesized into a "methodology dictionary" detailing processes for various project types.
This dictionary will provide insights into problem-solving, innovation, and development by sharing diverse approaches for mutual learning and inspiration.
The methodology repository encourages continuous improvement by allowing members to build on lessons from past experiences. It fosters a culture of mutual learning and advancement across disciplines.
Interested members will be invited to register their interest following an establishment of mutually agreeable milestones. Activities include observing processes, analyzing patterns, prototyping a framework, refining based on feedback, and presenting. The final dictionary could take the form of a printed publication, digital handbook, exhibition, or other medium.
Moving forward, Modus OperanDi(em) has potential to continuously evolve through ongoing member participation like gathering feedback, follow-up research, skill-sharing workshops, collaborations, developing new tools, and expanding topics and members.
The central aim is to iteratively improve the dictionary through open participation, experimentation, and knowledge exchange. This will ensure the project provides lasting value to the Lina Community and stakeholders interested in creative approaches and innovation.