21 Vacant Churches/Chapels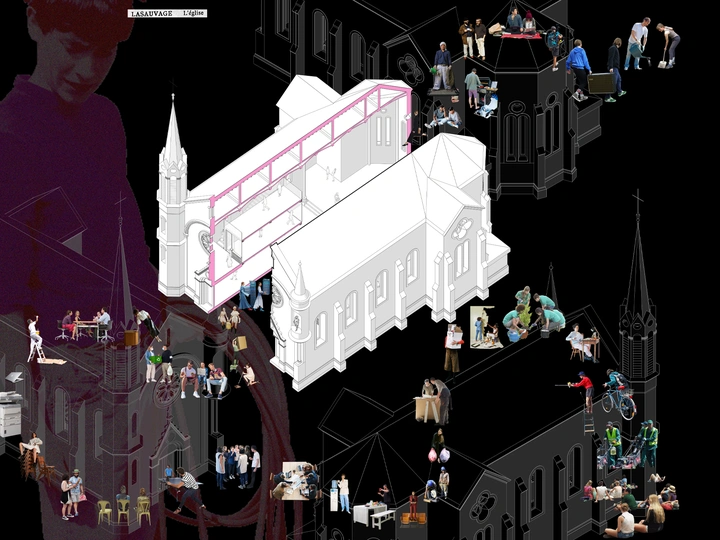 Redefining the Future Paradigms of Work. Adaptive Reuse of St. Barbara Church.
---
Siranuysh Martirosyan
Differdange, Grand duchy of Luxembourg. Yerevan, Republic of Armenia
Links
Team members
Siranuysh Martirosyan
Field of work
Architecture, Design, Urban planning, Photography, Research
Project category
Rural spaces
Project submitted
2023
Siranuysh Martirosyan is a young architect and researcher based in Luxembourg and Armenia. Her research interests include alternative spatial agency, radical working environments and collaborative labor, adaptive reuse, and maintenance of cultural/post-industrial buildings. In her works, she strives to examine these topics by presenting practical and theoretical approaches that encompass a broad spectrum, ranging from the furniture scale to the urban scale. She utilizes the practice of photography as a valuable tool in conducting her research.
In 2023, Siranuysh completed her MA in Architecture at the University of Luxembourg with her thesis project 21 Vacant Churches/Chapels; Redefining the future paradigms of Work; Adaptive Reuse of St. Barbara Church that received exceptional feedback from the jury.
---
This project explores the potential of the deconsecrated church vacancy to tackle pressing environmental, social and economic issues that Luxembourg citizens face today. Particularly, in the period of land commodification it is crucial to consider urban vacancy as a collective resource to rethink the modes of living, working, and utilizing the space commonly.
The research unpacks the legal framework governing the land and building ownership of the deconsecrated churches by analyzing the 2018 Law that instigated a significant historical shift. This research was supported by a comprehensive field trip to the 21 deconsecrated churches that gave valuable firsthand insights into the churches' current state conditions in the correlation to their urban morphologies.
This project unfolds the capacity of collective church vacancy to address the issues of daily work commute to Luxembourg City. Through the adaptive reuse of the St. Barbara church in Differdange into a worker cooperative, it strives to shed light on the future of work and working spaces organized around principles of self-governance where workers are the ones who take care and maintain their work environment. Within a secular society's framework, these 21 deconsecrated churches are redefined as commonly used spaces for a shared economy, knowledge, values, and responsibilities.
For the future development and progression of the project, I intend to engage in negotiations with the Municipality of Differdange to establish an inclusive worker cooperative initiative utilizing the St. Barbara deconsecrated church.