Espacio Deriva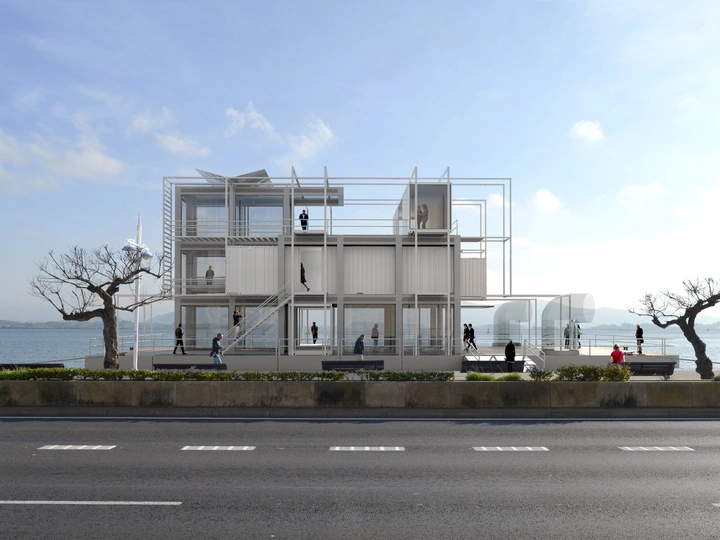 Barge of Arts and Technology
---
Villacorta+Zúñiga
Every port, every city, every country
Links
Team members
Maria Villacorta
José Luis Zúñiga
Field of work
Design, Visual Art, Other
Project category
Sustainable mobility
Project submitted
2022
We, María Villacorta (artist and designer, Spain b.1991) and José L. Zúñiga (artist and architect, Madrid b.1960) are an intergenerational couple dedicated to visual arts and design. We met back in 2011 during a workshop in the UIMP (Santander) given by Zúñiga about sustainability, art, and community. Since then we have been collaborating on exhibitions and design projects and we have given workshops and lectures in Spain, Italy, and Colombia.
---
It is in creativity and innovation where the purposeful humanism allied with technology and the responsibility of the environment wellness converge in a three-dimensional interface of creation, educational experiences, and research.
Based on movement and transformation as universal constants, Espacio Deriva is conceived as a floating device for environmental commitment, a space that adapts to its content and landscape, and a building that becomes a living and mutable organism. Inspired by industrial port infrastructures and cargo ships, the project consists of three basic parts - the barge, the main building, and a scaffold structure- and modular extra components - screens and shipping containers turned into exhibition spaces, laboratories, or meeting rooms-, which enables a wide variety of spatial possibilities and activities inside and around it.
Espacio Deriva is an environmentally passive design for smart cities that works as an intelligent buoy for the conservation of the seas, oceans, and rivers, gathering data on weather, water pollution, or marine ecosystems and wildlife. It is a laboratory of intersectional knowledge and living experiences, a new space to foster the relationship with water as an essential resource and to reinforce environmental commitment through new forms of arts, technology, and science.
Espacio Deriva aims to join the common effort to achieve the Green Deal and contribute by offering a program that amplifies our knowledge of the water landscapes while learning and stimulating actions for the climate. It stands out and breaks schemes because it is R+D+I in motion, a floating and sustainable architecture that acts as an external hard disk drive since it is connectable and carries collective thoughts, and knowledge. A mobile space beyond borders that promote inclusiveness by connecting people, communities, and cities to navigate towards a common horizon.