The Post-Car Garage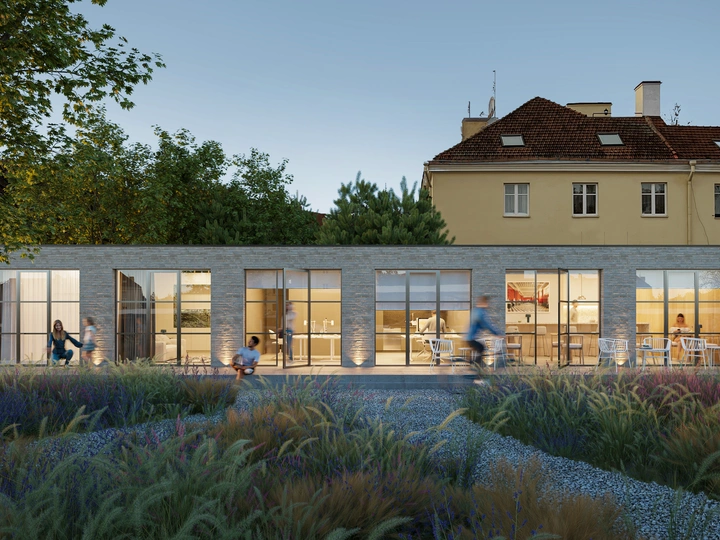 This project highlights the history of Lithuanian brick garages, uncovers their current uses and speculates on possible futures in a post-auto Baltic.
---
Misiūna / McCarthy
Vilnius, Lithuania
Links
Team members
Jacob McCarthy
Rūta Misiūna
Field of work
Architecture, Design, Urban planning, Photography, Research
Project category
Renovation
Project submitted
2023
Misiūna/McCarthy is a design practice based in Vilnius, Lithuania and Chicago, Illinois. It was founded in 2021 by Jacob McCarthy and Rūta Misiūna. We specialize in adaptive reuse projects and frequently work with community organizations on social impact projects. We are interested in the role of architecture in conveying culture and creating community. Our portfolio of work includes a computer lab, summer camp, community center, Japanese restaurant, and Ecuadorian hostel as well as private residences in Chicago and Vilnius.

Jacob McCarthy, cofounder of Misiūna/McCarthy, received his Master of Architecture from the Princeton University School of Architecture, with a certificate in Urban Policy from the Princeton University School of Public and International Affairs. He earned his Bachelor of Arts in Sociology, with honors, from the University of Chicago. Jacob has worked at firms in Chicago and Philadelphia.

Rūta Misiūna, cofounder of Misiūna/McCarthy, received her Master of Architecture from the Princeton University School of Architecture. She earned her Bachelor of Science in Architecture from the University of Illinois at Chicago where she won the AIA Martin Roche Travel Scholarship. Rūta has contributed to the Chicago, Venice, and Sao Paulo Architecture Biennials. Ruta has worked at firms in the United States, Denmark, and Lithuania.
---
Adaptive reuse projects, with their many environmental and economic benefits, are central to the modernization of Lithuanian cities. Currently, large apartment blocks are being updated, inner city industrial buildings converted into lofts and offices, and collective gardening communities suburbanized. Despite these transformations, certain parts of the Lithuanian city have not been sufficiently studied, yet alone transformed.
This proposal will focus on one such urban type, the brick garage. Built in the midcentury, these one-story plus basement structures were a standard Soviet architectural type built throughout the USSR. Once a status symbol associated with car ownership, brick garages are ubiquitous in Lithuanian cities.
The regular exterior of the garage belies the varied and vibrant activities that happen within them today. In a garage, one may find storage for harvested produce, a small mechanic business, or even a sauna or recreation space.
Our research project will engage the public asking them to consider the historical importance of the garage, its role in the Lithuanian urban imaginary, and its possible future adaptation. We will use archival research to show the history of the garages, and ethnographic research and documentary photography to demonstrate the ways that they are used today. Lastly, architectural visualizations and conversations with architectural historians and theorists will speculate on the garages' future.
This is a timely project for two reasons. First, many European cities are moving away from cars and toward more sustainable options like public transit and bicycles. The reuse of automotive infrastructure is important as cars become less central in European urban planning. Second, the war in Ukraine has drawn attention to the complex relationship between the Baltics and Russia. In this climate, a study of the individualization of a standardized Soviet architectural form into something uniquely Lithuanian is potent.