100BUDKA - Passive House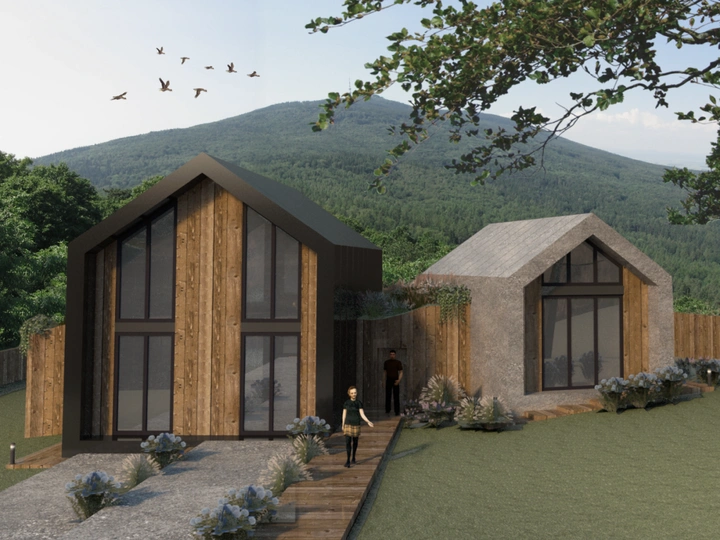 This is a passive house project that uses modern technologies and solutions to reduce energy consumption to a minimum.
---
Sara Gorczyńska
Sobótka, Poland
Links
Field of work
Architecture, Design, Ecology
Project category
Energy
Project submitted
2022
I am architecture student at the Wroclaw University of Science and Technology at the third year. I take a keen interest in architecture, design and art. My goal is to improve human life and bring creative concepts into practical and feasible reality. As a future architect I think it is beautiful, that we can design better societies which will have possitive effect on the world.
---
It is a project of a modern single-family house. Thanks to the technologies used, it is a passive house, which has excellent insulation, also uses the energy of solar radiation and reduces energy consumption to a minimum. In addition, ecological materials were used to build it, like wood or cellulose insulation. The use of prefabrication has also contributed to a building waste significantly, it also allows you to build a house in a few weeks. Additionally, its construction can be divided into two stages. This is a great solution for young people who do not have a lot of money and their plans for the future are not completely stable. Another goal of the project was to integrate the house into the landscape of Sobbtka, which is located at the foot of the Slgza mountain. The house is divided into two barn-shaped blocks, which are connected by a long single-story block with a green roof that drains rainwater. The modern, subdued facade is broken with wood and colorful vegetation Apart from so many ecological solutions, the house is very functional. It is divided into a common, private and utility and work zone. Rooms are located according to the directions of the world depending on their functions. In addition, the house is lit mainly from the east and west, so that energy does not run away from the cold north and that the house does not heat up from the south.