Tree/Column/Claw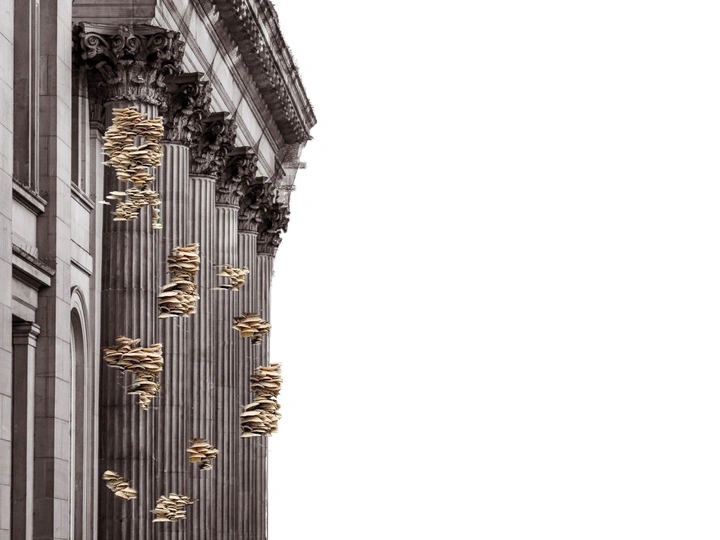 An architectural treatise for the climate emergency
---
Links
Team members
Maria Howard
Field of work
Architecture, Ecology, Visual Art, Multimedia, Research
Project category
Public space
Project submitted
2023
Maria Howard is a British-Italian artist based in Glasgow. Working primarily with text and sculpture, her research-led practice is concerned with the poetic and political connections between memory and imagination, site and material, colonialism and climate.
She is the recipient of a Gillian Purvis Trust Award for New Writing and The Yellow Paper Prize, and has been shortlisted for the Fitzcarraldo Editions Essay Prize and longlisted for the Ginkgo prize for ecopoetry and the Nightboat novel prize. She has undertaken artist residences with CCA Glasgow and Qanat Collective, Taattisten, Lyth Arts, Can Serrat and the Bothy Project, among others. She has led site writing and clay workshops for TBA-21 Academy and Glasgow School of Art (GSA). She is currently a part-time PhD candidate at GSA and a co-editor of Nothing Personal magazine. She also works as an arts journalist, translator and ceramics tutor.
---
This project examines the 'column' as both a natural and architectural form in order to draw new links between colonialism, capital and climate.
Beginning with the idea of the column as a skeuomorph of a tree, it employs metamorphosis as methodology to ask if practice-based research can ethically reframe the column as a living thing. It aims to engage reparatively with this form, asking if the neoclassical columns of our cities can take on the mutable qualities of plants and animals for the purpose of imagining a more just and green future.
I propose that these aped ancient forms – employed by the state and the elite to glorify the imperialism and colonialism that lies at the root of our current environmental and social problems – could be embraced as a different kind of monument: one that embraces the root of 'monere', becoming a warning of what is to come, as well as a reminder of what has passed. Their backwards gaze can turn to look towards the uncertain future and possible ruins of ecological crisis without romanticism or nostalgia.
The project's speculative approach takes its cue from from the mythical origins of the orders described by Vitruvius and the fantasies of Piranesi's view of Rome, described by Susan Tallman as 'half archaeology, half speculative fiction'. This allows the column to take root once again and to branch out beyond its singularity into entangled states of being that destabilise binaries of man and nature in favour of 'ecologies of repair'. The column becomes spolia for practice-based research, reframed, and reimagined through relocation, situating it once again out of place in the precarious present. Here criticality is embodied by what Edward Said termed, 'an unstoppable predilection for alternatives' and artistic research is proposed as a response to the urgent need for 'a diversity and plurality of tactics' (Wretched of the Earth collective) in the struggle for climate justice.