Eco throne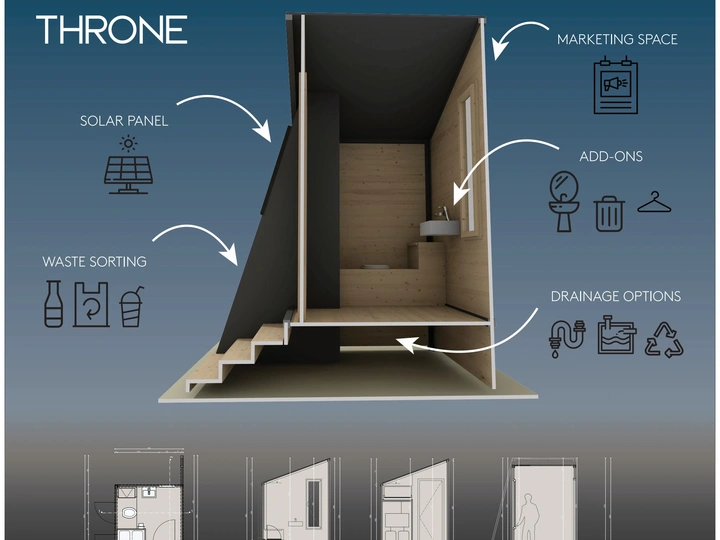 Eco throne is a compost outdoors toilette that you pay for -with plastic.
---
Klara Šimunović
Zagreb, Croatia
Links
Team members
IVA PERUČIĆ
Klara Šimunović
MATKO ŠIŠAK
Field of work
Design, Ecology, Visual Art, Curating, Communication
Project category
Public space
Project submitted
2023
Self employed entrepreneur, innovator, lecturer and business strategist also known for artist practices. Copywriter by vocation, thirsty to share the knowledge and connect.
---
When spending time in nature, we often cannot find waste disposal or even more importantly recycling bins. One bottle we drop, in order to clean our car, boat or bag or just not to hold it, will still be there hundreds of years later. ECO THRONE on one hand provides space for recycling and on the other gives you an extra little "nudge" of motivation to do it. How? On a large scale, we tend to change our habits when we must, not just because its right. Therefore ECO THRONE is not only a recycling unit, but primarily a toilette. We work with people,to collect plastic from their surrounding, disposing it by using waste as a resource, a currency that opens the toilette doors and enables them to use the self composting toilette and a restroom on secluded areas where no infrastructure exists. ECO THRONE raises awareness on respecting nature, recycling and can also provide space for billboards, artistic intervention, public notices or information for visitors. Eco Throne set up on a secluded beach, natural reserve, or even an outside space for festivals and takes care of your primarily needs but also of the primary needs of our planet.
ECO THRONE is a social innovation since it brings together different parts of society to provide them tool to deal with plastic and other waste in their surroundings. We bring new and original perspective in challenging plastic waste. This concept is created with the goal of extending and strengthening civil society to take an active part in waste management and there is no similar product known on the market. We used existing technologies to create innovative one. Using plastic as a resource, we change perspective on the waste disposal and motivate society to act upon it for measurable contribution and free commodity of a toilette and a restroom in return-It is a new way for an investor in social impact to get SROI and ROI from advertising and reselling secondary resources for further use and a chance to employ local community