Short titles suck, so does unjust adaptation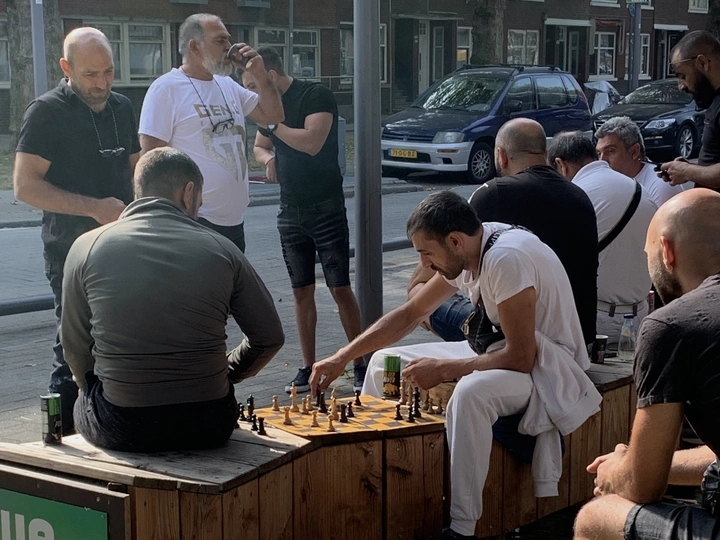 My idea is to radically increase public participation in planning and designing in order to achieve just adaptation to climate change.
---
Filip Chládek
Delft, Netherlands. Prague, Czechia.
Links
Team members
Filip Chládek
Field of work
Urban planning, Landscape architecture, Curating, Communication, Research
Project category
Public space
Project submitted
2023
I focus on collective participatory designing for spatial justice in urban green commons. My goal is not to become a lone architect, but to work closely with people to create places and strenghten communities living in them. I am very much interested in using other types of media, such as writing, editing, photo and video making or organizing.
I am in my final year of Landscape Architecture at TU Delft in the Netherlands, where I also work on on-going Honours Programme Research on the topic of Integrating Spatial Justice into policy making.
Previously, I have studied Landscape Architecture at CTU in Prague, the Czechia, where I organised the Olověný Dušan competition, the largest architecture and design student competition in the Czech Republic. The competition involved over 1000 submitted student projects, two juries, a public exhibition and an award ceremony attended by 500 students, teachers, journalists and other architects and designers. I worked closely with others to prepare other workshops, events, competitions or lecture series.
Besides organizing, my passion is writing and reading. I learned valuable lessons during 'How to write about a city' course Led by journalist Karolína Vránková in a workshop by the Center for Architecture and Metropolitan Planning. I was able to utilize more of my writing skills while working for the Gallery of Jaroslav Fragner in Prague, a gallery of architecture.
I have a privilege of learning and contributing while working for the largest humanitarian NGO in East Europe, called People in Need. My work for the Communication Department helped me to better understands the concepts (and real impacts!) of post-coloniality, social exclusion, marginality and many faces of discrimination.
I gained experience in Landscape Architecture practice while working for Šmídová Landscape Architects, resulting in a number of projects of my own, followed by a 1st place in an architecture competition with a team of IXA architects.
---
My project is a collision of a few independent lines in my life that have started to intertwine in the recent year. I was feeling dissapointed from the architectural industry itself, from the way architects and firms work. To escape architecture I have started to work in a humanitarian and social work NGO, which focuses on giving more dignity to the life of people in need, helping them own their life more. I am studying and practicing Landscape Architecture, a field, I believe, that can create equal spaces for everyone. I feel the pressure of Climate Change and its inevitability in every task I approach.
I did not believe this could all be related, but it somehow formed together in my mind during my research in Urban Adaptation Justice in Prague (Integrating Spatial Justice into policy making research with mentors Roberto Rocco and Caroline Newton), where I learned and realised that in order to create adaptive public spaces to Climate Change, we need to change the way architects work and start involving vulnerable people through participation during the whole process of planning, designing and building.
I call this project 'collective participatory designing for spatial justice in urban green commons' and I followed on this idea during my other school projects and elective courses, where I learned how to communicate with citizens, transform their voices into ideas and how to use art as an urban innovator to strenghten and politicize communities. I also learned that focusing on the small scale cannot mean giving up responsibility on the top-to-bottom approach. I plan to further formulate this idea during the on-going "Space + Common Good" Summer School and during my Master Graduation project, where I hope I can get more field work experience. I believe this could result in interesting new ways of working in the face of Climate Change.
The Lina Open call is a way for me to further research and focus on this topic, I am open to writing, organising, exhibiting…