Salta Heat-House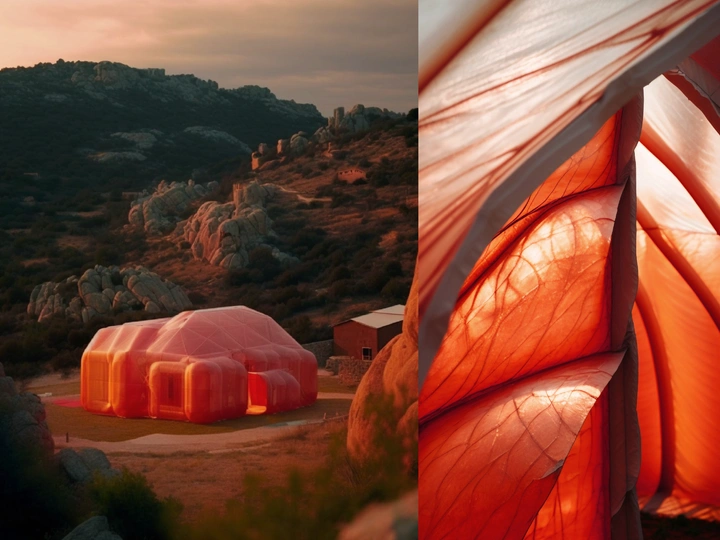 Harvesting Extreme Heat for Regenerative Living.
---
Links
Team members
Nayla Cefarelli
Sofia Lorenzo
Field of work
Architecture, Design, Ecology
Project category
Raising awareness
Project submitted
2023
XAARCHIVE is an interdisciplinary collective founded in 2021 by Sofia Lorenzo and Nayla Cefarelli, with a focus on technological development in the fields of Design and Architecture. Led by women, our collective endeavors to reshape our relationship with nature and the non-human through comprehensive data gathering and management. We embrace the concept of multiplicity in design, acknowledging and appreciating the contributions of biological, artificial, and human intelligence.
Both originating from Buenos Aires, Argentina, we have since relocated to Europe. Our diverse backgrounds enable us to draw inspiration from ancient Latin-American design practices, techniques, and perspectives. We take pride in blending these ideologies and know-how with cutting-edge technology and software to enhance our work.
XAARCHIVE studio is built upon a strong foundation of coding, generative design, and parametric techniques, owing to Nayla's expertise in the discipline. Meanwhile, Sofia's interests lie in conceptualization, academia, and the intellectual development of our practice. Despite being a relatively new studio, we have already participated in prestigious global events such as Dutch Design Week (The Netherlands) and won the ReaArtFair 2022 (Milan). Additionally, we have collaborated with esteemed institutions like Next Nature (The Netherlands) and the University of Advanced Architecture of Catalunya (IAAC, Barcelona).
---
We want to present our speculative project, not as a utopia nor distopia of a possible future, but as a way of thinking about the present. We imagine this project can take the form of: Speculative Design Workshop, Lecture, Immersive Installation, and our main aim is to convey a radical way of thinking architecture that dares to be positive even in the worse case scenario.
SALTA HEAT HOUSE: Harvesting Heat for Regenerative Living
Our solution for Argentina's hottest summer yet is an underground home that uses excess heat to power all internal systems. Locally grown food is cultivated using minimal water, and a "heathouse" on top turns the high temperatures into usable energy. Our design offers a new way to live and farm in extreme conditions, through blending new renewable energy technologies and ancient building techniques.
Our project brings hope for a sustainable future, daring to be optimistic in times of crisis.
The region being designed for is Salta, Argentina. With more than nine heatwaves in this past summer, continuous wildfire spreads and severe drought, Argentina suffered its hottest summer on record.
With absolutely unbearable temperatures and non-existing humidity, the country's crops were severely damaged and as the world's top exporter of soy, and the third for corn, Argentina's economic crisis worsened.
It is about time we take active measures to reverse this human-made disaster and think of different ways to farm, build and live. If this scenario continues to worsen,
How can the singular household become self-sustainable without a livable environment?
Some of the key aspects are the use of locally-sourced materials like the bioplastic cover and Clay/Adobe construction. The use of passive regeneration methods used in ancient building like submerging the house inside the terrain to shelter from the heat and provide thermal mass.