Hemp-it-yourself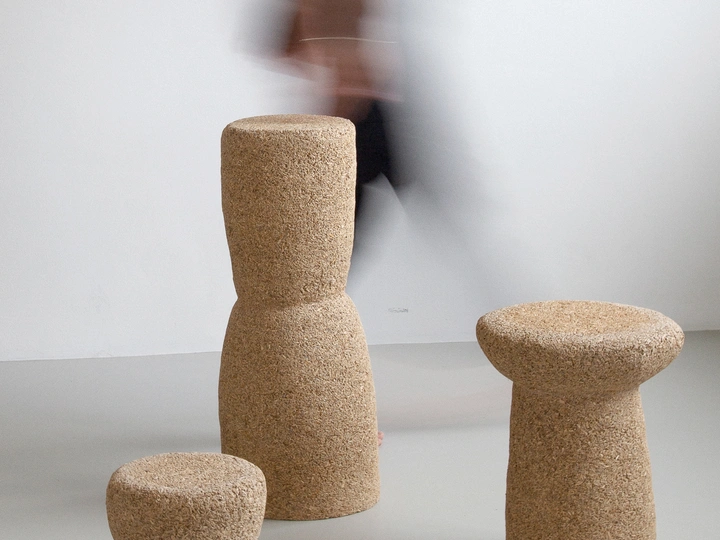 An open-source method for working with hempcrete to make carbon negative furniture pieces.
---
Hannah Segerkrantz
Tallinn, Estonia
Links
Team members
Hannah Segerkrantz
Field of work
Design, Ecology, Research
Project category
Material tracking and reuse
Project submitted
2023
With an interest for the relation between human and its surroundings, Hannah Segerkrantz specialises in design and material research, combining values of ecology, craftsmanship and democratic design.
Her approach to research is environmental, sensitive and contextual. Whether exploring the cultural background and gestures of architectural materials, or studying the relations between objects, people and local traditions, she offers tools and means for bridging our connection with the environments we inhabit.
Hannah is an alumni of the Design Academy Eindhoven, and currently embarking on a MA in material research at the Estonian Academy of Arts, where together with Roland Reemaa from LLRRLLRR Architects, she is also leading a studio titled "Sense of Measure" in the Interior Architecture MA. Previously she has worked as a material researcher at BC Architects and Studies and as a design researcher in Studio Formafantasma
The works of Hannah have been exhibited at various exhibitions, including Dutch Design Week, Salone del Mobile, Design Fest Gent, Tallinn Architecture Biennale, Museum de Fundatie Zwolle and in Kulturforum and g_rund gallery in Berlin. In January 2023, she was selected for the inaugural "25 under 25 for the Young Climate Prize" cohort organised by The World Around summit.
---
Hemp is a versatile and sustainable material, absorbing more CO2 per hectare than any forest or commercial crop. When combining hemp shivs with a lime binder, hempcrete is made which has the strength of concrete and the flexibility of clay. The material is widely used in sustainable building, but has little application on a smaller scale.
Further exploring the potential of the material, Hemp-it-yourself creates a new method of applying hempcrete into a collection of carbon-negative furniture pieces by merging material knowledge with a low-end approach to meet current values of ecology. The semi-modular system consists of six textile shapes that can be mixed and matched together to create fabric form-works for casting objects with various heights, volumes and functions.
Inspired by the democratic design philosophy, the furniture pieces are based on an open-source manual and can be produced locally, giving the power to the user. When various people around the world make a side table according to the Hemp-it-yourself manual, a network of makers is created, shifting the focus from the individual designer to a collective, globally local practice. Through this the project aims to encourage the usage of natural materials and on-demand production.
As of today, over a hundred digital copies of the manual have been sent out to curious makers from all around the world. The project has also developed into a series of workshops hosted during various exhibitions and in academies.