The Girl Who Crossed the River with a Tablecloth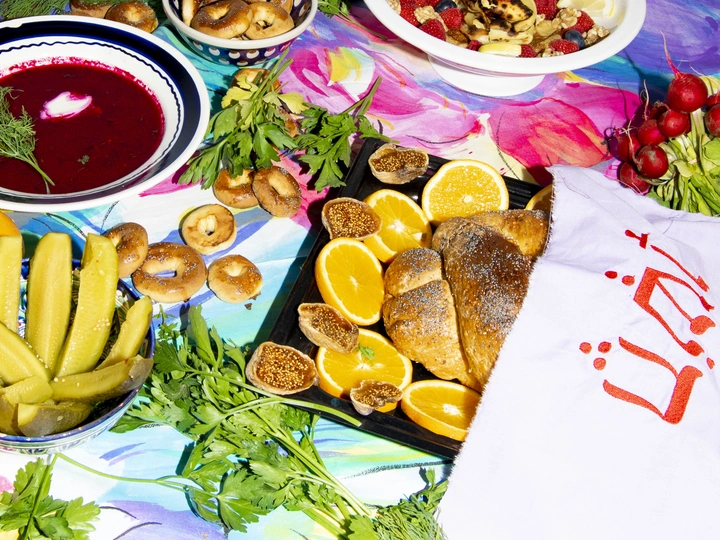 Lara embarked on a research into the scattered history of her family in the previous Russian Empire, to reconstruct her own image of the past.
---
Lara Bongard
Nomadic practice, affiliated with LUCA School of Arts (Brussels, Belgium).
Links
Team members
Lara Bongard
Field of work
Design, Ecology, Visual Art, Multimedia, Research
Project category
Raising awareness
Project submitted
2023
Lara Bongard's multi-disciplinary practice moves in-between writing, cooking, photography, textile design and publishing. Her work illuminates hidden stories of cultural erasure and 'placeless' migratory identities. Exploring the feeling of belonging nowhere and everywhere at the same time. Via transhistorical research—working with archives, historical sources, ancestral stories, mythology and tales—she merges and fuses ancient narratives and symbolisms to create new stories, images and rituals.
Lara's work aims to challenge our relationship to the past and acknowledge the multiplicity of stories and histories that constitute our identity. By seeing ourselves and each other in our plurality, we can move beyond a singular perception of a person or a culture, and start building bridges. Through reimagining the past, present and future, while working with personal stories as connecting factors, she creates spaces where people can look at the meaning of being uprooted and feeling at home from new perspectives. Lara uses colour in a tactile language of word and image to touch on delicate issues, break stigmas and weave together connections.
Lara Bongard holds a BA and MA in Visual Arts from LUCA School of Arts in Ghent, Belgium. Currently, she is applying for a PhD at LUCA with her project 'The Migrating Food Pot: From Uprooting to Re-Earthing in regenerative futures'. This project wants to regenerate the disconnection with our food-choices and heritages, by using food as binding factor to create new stories of belonging and multiplicity in an uprooted world.
Her master project 'The Girl Who Crossed the River with a Tablecloth' won the LUCA Thesis Prize 2020. The project is now on view as a solo-exhibition in the Jewish Museum in Amsterdam until October 1st 2023. The book will be published by Art Paper Editions in September 2023. Next to her practice, Lara works both in creative direction and food-design, and writes for publications like METAL and MOLD.
---
'The Girl Who Crossed the River with a Tablecloth' was an investigation to search for a sense of home in dislocation. As the granddaughter of a holocaust survivor, absence was my heritage. I broke the generational silence to start a quest for the invisible worlds of my ancestors, and found beneath the surface, beyond the decimation and destruction, a whole repository of stories. Through reconstructing my own image of the past, I found a sense of belonging in my lack of place and recognised how multiple stories unify inside me. The tablecloth, the family heirloom I received, grew into a symbol of life: sharing food with family across time—connecting East with West, the generations, and diversity of cultures we as a family represent. Gradually, dislocation became a portable home. The project resulted in a multi-dimensional work, using non-linear time perspectives and transhistorical storytelling, including a multi-media installation and publication.
Many challenges and questions remained about finding new forms of belonging in an uprooted world. Pivotal in the research, was the realisation how movement and loss create a hybridised meaning of 'home' and belonging. Identity, is thus in a constant state of flux and re-construction. Although food did not have the main role in the project, my fascination for food was sparked when relocating scattered family members, as I experienced the power of food to connect in a non-verbal language of our shared humanity—intersecting climate, history, spirituality, origins, and memory.
The natural evolution of the project resulted in the PhD proposal I'm currently working on. Through excavating (food) memories as powerful vehicles to uncover and recreate vanished worlds and silences stories. I will research food as connecting factor to generate new stories of co-existing and belonging, by interweaving a multiplicity of food stories—as in a single recipe itself the (his)stories of many people, landscapes, and cultures are hidden.