A Slow City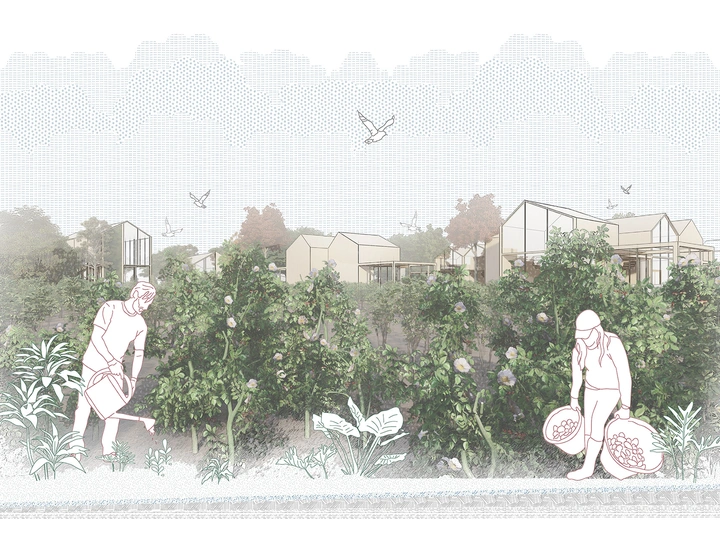 Can we imagine thriving urban futures by blending the 'slow food' movement into city planning, inspiring creative and sustainable scenarios?
---
Diellëza Tahiri
Ferizaj, Kosovo
Links
Team members
Diellëza Tahiri
Field of work
Architecture, Design, Urban planning, Film, Photography
Project category
Urbanity
Project submitted
2023
I am an architect from Kosovo with a Master's degree from Politecnico di Milano, in Sustainable Architecture and Landscape Design. I am currently involved with two international firms as collaborator and consultant for architectural and urban projects. Through my studies, I have developed a keen interest in exploring the intersection of landscape architecture and urban design, especially in the context of sustainability and resilient design.
My passion for professional and academic challenges, diverse experience in practical work, and extracurricular activities, along with my academic background in the fields of design, architecture, landscape, and urbanism; has led me to develop a keen interest in interdisciplinary and experimental approaches. My interests lie in topics such as contemporary urban models, technological advancement and smart cities, artificial intelligence application in landscape and architecture, identity and genius loci in a social media-driven society, environmental justice and nature-based solutions, territory and the geopolitics of the land, and circular economy in commercial-led fast productions. I am particularly interested in the intersection of these topics and how they can inform more sustainable, equitable, and resilient urban futures.
And this is the main idea upon which my architectural studio, 'delma' will operate by combining a process of research, design and practice.
I would really like to expand my knowledge in a deeper level and contribute to a better future, as I truly believe that my interdisciplinary background and challenging nature can bring a fresh perspective to your esteemed community.
---
A Slow City is a visionary "research by design" project that critically aims to open inclusive discussions about pragmatic issues faced by rapidly urbanizing Balkan's cities. The region grapples with challenges posed by fast urbanism, experiencing profound transformations and familiar concerns about peripheries, city edges, large infrastructures, abandoned landscapes, brownfields, and sprawl. Driven by cittaslow principles, the project proposes resilient scenarios promoting environmental justice, soft mobility, sustainable design, circular economy, heritage, and social integration.
Three main "what if" scenarios shape Ferizaj's concept as a slow city:
1.What if water defines growth?- envisions nature defining growth, allowing integration or barriers to protect the city's environment;
2.What if tram revives the city?- introduces a sustainable mobility system to revive the city and encourage public transport.
3.What if the edges gain a new identity?- envisions rural-urban integration and innovative approaches to counter speed growth, fostering circular economy practices and social integration with the landscape.
Testing the strategy in three zoom-in areas like City Centre, Green-Edge, and Agri-Edge, aims to gauge its effectiveness across various scales. City Centre and Green-Edge embrace slow urbanism and landscape philosophies, emphasizing sustainability and social well-being. In contrast, Agri-Edge aims to be more ambitious in terms of imagining a new way of perceiving city peripheries and rural-urban relations that are usually considered the ugly side of cities. It takes a bold approach, envisioning transformative city peripheries as sustainable urban villages, promoting social integration, agriculture, and circular economy practices.
The Slow City project aspires to shape a balanced and sustainable urban future, reimagining Ferizaj and other cities as places that embrace their natural heritage while fostering social cohesion and environmental well-being.