FTMO Offices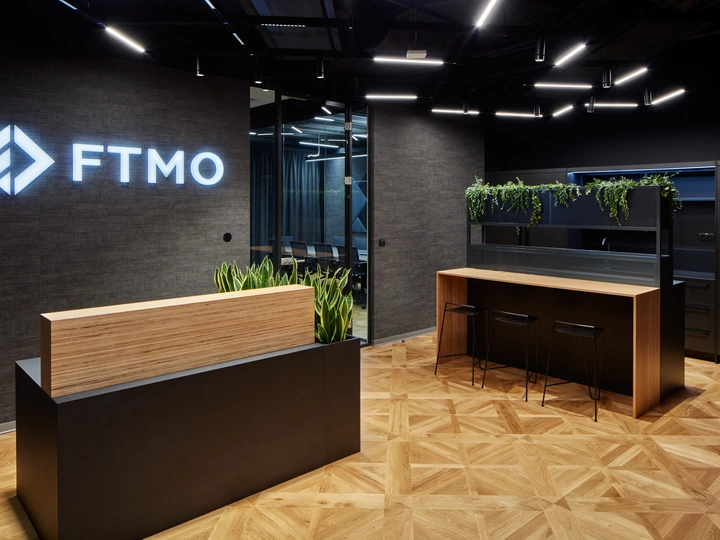 FTMO is a modern and innovative office space setting the standard for sustainable, and effective interior design.
---
YUAR Architects
Prague, Czech Republic
Links
Team members
Jan Dvořák
Lukáš Janáč
Christine Lessenko
Tomáš Livňanský
Noor Marji
Petra Pavelková
Anna Šlapáková
Gregory Speck
Martina Zachariášová
Field of work
Architecture, Design, Urban planning
Project category
Renovation
Project submitted
2022
YUAR is an international team of multidisciplinary creatives focused on delivering innovative office and corporate spaces. We deliver comprehensive design & architectural services; backed by a highly efficient project management. Our core business is offices and corporate design.
---
As a result of its rapid growth, FTMO had outgrown its previous office in a very short time. FTMO felt not only the need for a bigger space, but their existing office no longer represented its innovative and progressive identity.
FTMO found their new home in the upper floors of Quadrio building with a panorama view of the Prague city center.
As FTMO is operating worldwide mainly online, they needed a physical space that is both representative and reflects the tech-savvy culture of their young and dynamic employees. The office space is reinvented into a social space where co-workers become friends; where the meeting rooms turn into poker rooms, the conference stage turns into a meeting zone for after-work events.
The space is very forthright and open, subdivided by multi-purpose spacedividers with lockers and greenery. A new concept design for SCRUM meetings is introduced here with a semi-private, semi-open meeting booth.
The utmost concern for both, client and designers, was to reduce the carbon footprint of construction and materials in use. The original wooden floor remains in corridors and social zones where possible. Glazed partitions where dismantled and reused to respond to the needs of the new floorplan.
The project uses 100% recycled glazed partitions, wooden floors, air conditioning, ventilation systems and lighting elements. Carpets also contain recycled materials. Locally produced furniture from local manufacturers and suppliers also reduces carbon emissions to achieve a unique design while preserving the environment.
The colors and materials are in a sleek anthracite and natural wood tones, paired with high-end audiovisual equipment. In a state-of-the-art podcast room, they are streaming the latest trends on fintech out into the world.
Traders are known for never going to sleep, and neither does their new office.