Go on, look into the fluorescent lights!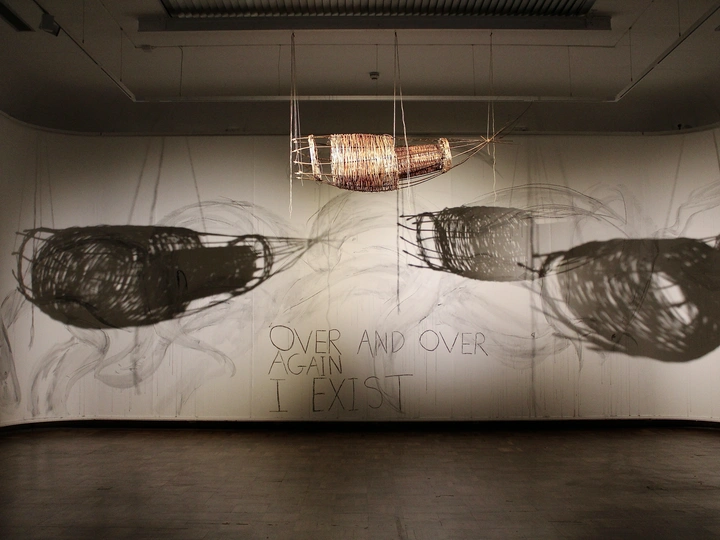 This project is an art piece that combines writing, sculpture, and drawing to create a discursive look at how we recognise and discuss the nature.
---
Ellen Harrold
Perth, Scotland
Links
Team members
Ellen Harrold
Field of work
Visual Art, Other
Project category
Raising awareness
Project submitted
2023
Hello, and thank you for your interest in my work. My name is Ellen Harrold; I'm an art writer and artist working on a master's in Art, Science, and Visual Thinking at Duncan of Jordanstone College of Art and Design in Dundee, Scotland. I became interested in the connection between art and science during my undergraduate degree at the Institute of Art, Design, and Technology in Dublin. My practice is mainly based on the study of abstraction as a construct through which we accept or reject information. I believe that People are creatures of refraction. We absorb, reform, and reflect ideas constantly. This process reveals more about existence in all its forms (corporeal and otherwise). Yet, the more we learn, the more we try to establish rules and formulae for the mechanisms through which existence can shape itself, which is an interesting praxis for a mechanism-based understanding of the world. The issue that these systems become accepted as fact and pile up on one another, we risk establishing a practice of understanding that resists adaptation and change as one flaw threatens to bring the system down. So we cut and segment and resist change. Every fact stands on a tower of assumptions, adrift from the connective tissue that would allow us to understand it. It isn't possible to have an understanding of everything. The human brain has its limits.
I try to tackle these ideas through art and experimental writing. I've been lucky enough to share my ideas through exhibitions such as Cause Célèbre with the Oobleck Collective (2022), The Medical Humanities Across Time with Obliquity Medical Humanities Collective (2023), and Colour with the Glasgow Gallery of Photography (2023). I've recently published written pieces with Danse Macabre, New Note Poetry, and Die Leere Mitte. I've established a literary magazine 'Metachrosis Literary' that deals with the overlap of art and science. I've also recently published my first book 'Aesthetics and Conventions of Medical Art.'.
---
This is an abstraction. The place between the walls. Setting the structural foundation for what we can see in their own absence. Abstraction makes a lot of things; sense, atoms, the meaning beyond the symbols I type. Yet it is largely unappreciated in propping up the facts we purport in our daily lives. Alongside metaphor and poetry, it is one of the foundational pillars of the sciences. Letting white blood cells fight, preventing mass from escaping a black hole, and allowing numbers to divide in spite of the fact that they can do none of those things. The words and images allow us to understand—a foothold to comprehend the universe. We're creatures of understanding, desperate for the world to make some sort of sense. Unfortunately, the world doesn't operate to suit our wants. It is prone to change and the elusive unpredictability that drives our own selves. Intertwining and reacting in a constant state of change makes it difficult to define and impossible to segment for the purpose of analysis.
I wanted to create a piece that would take this varied understanding of the world and, rather than create a unified singular understanding, make the interpretation so varied that it would act as a conduit for discussion and debate. I worked with an everyday, natural material: willow. Woven into a sculpture, turned into charcoal, ground up, and used as ink. I worked with imagery of eels, which co-habit the same space as willow and are unknown to most people in their natural habitat as most people only see them when captured or dead. From here, I drew, wove, and wrote. I used space and light to unify the piece. In the end, I saw the light as a physicist, the eels as a biologist, and the writing as a poet. Countless eyes saw countless things. All these things needed to be saved. It was no longer an abstraction.