Group Home for People with Severe Disabilities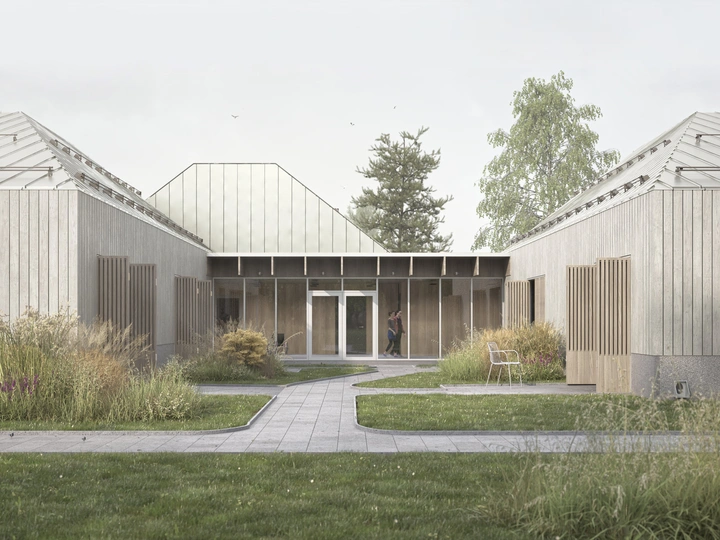 The aim of the project is to create home for people with disabilities. A place where they can live independently with as little support as necessary.
---
Links
Team members
Laura Auce
Lauma Auzina
Darta Janevica-Dambe
Inese Rudzate
Liena Silina
Field of work
Architecture
Project category
Raising awareness
Project submitted
2022
NOONSOON is an architecture practice based in Riga, Latvia.
We enjoy intellectually challenging work, unprecedented tasks and unique programmes. We aim to create environmentally responsible architecture. We love simplicity.
NOONSOON is founded and led by Liena Silina. Liena has gained her education and experience in University of Illinois Chicago, Riga Technical University, Lund University, Bauhaus Dessau. She is certified Passive House Designer and faculty member at RISEBA FAD.
---
The aim of the project is to create home for young adults with disabilities. A place where they can live independently with as little support as necessary.
This is a charity project. The funds for the construction are provided from donations and by selling candles made by daycare center clients. All of the project design team - architects and engineers - offered their help pro bono.
The group home consists of 5 houses and an additional shared use house for the staff and common spaces. Houses are banded together by a lobby - a spacious green area facing south designed for various activities. Each inhabitant has his own private patio.
Both indoor and outdoor spaces are designed according the universal design principles, aiming to create environment that can be equally experienced by all people, to the greatest extent possible.
The building is planned in a one level in order to provide an opportunity for all of the inhabitants and the staff to move around easily without using stairs or an elevator. Special attention is paid to the scale of the building creating a homelike atmosphere and providing privacy for inhabitants both indoors and outdoors. Room layout - creating separate houses and avoiding long, cold corridors - helps clients to easy orient themselves, as well as provide visibility for staff to oversee daily life in the home.
The building is made of wood framing modules, produced in a factory environment, and assembled on site. Project's building solutions provide low operating costs and long-term durability.
The project brings awareness to the deep problem Latvian society is still facing. Although the situation has improved a lot lately, people with severe disabilities are still hardly visible in our society. They are mostly forced to stay at home and their parents are sacrificing their own lives to take care of their adult children. We believe that each and every person should be able to live their life as independently as possible.