Common Waste - Common Resource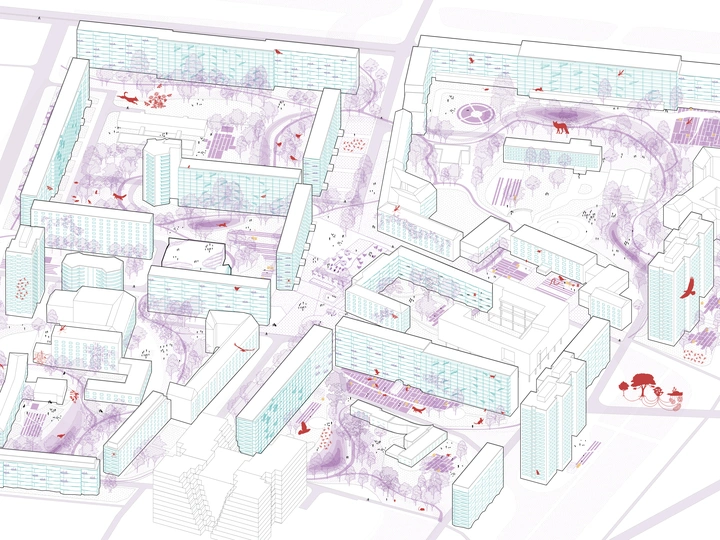 Fundamentally reconfiguring waste systems towards local recycling, community empowerment and the natural metabolisms within urban ecosystems.
---
Links
Team members
Jemma Abbott
Jamie-Scott Baxter
Chiara Chiasera
Dali Dardzhaniya
Gesine Flock
Jeppe Kalnæs
Julia Köpper
Qianyi Lu
Oleksandra Shor
Prof. Jörg Stollmann
Tanja Straka
Field of work
Urban planning, Ecology, Other
Project category
Rural spaces
Project submitted
2022
TUSCA7 is a project-based open partnership with interests in ecology, infrastructure, spatial empathy, and visual and acoustic expressions. Formed at TU Berlin, TUSCA7 fosters multi-disciplinary collaboration between students in academia, practitioners and activists. In our latest project, as part of the studio »SC14: Entangled Communities Ostbahnhof«, CUD (Prof. Jörg Stollmann), we forged a viable pathway from academic speculation to local implementation within the municipal framework.
---
Berlin has a waste problem. In 2019, Germany included short-lived climate pollutants in its Climate Change Act commitments to reducing greenhouse gasses by at least 55% compared to 1990 levels by 2030. Nevertheless, since Berlin's Energy Transition Act of 2021, energy from waste incineration and anaerobic digestion is officially considered climate neutral, despite well-documented harmful emissions. Likewise, the construction waste system undergoes massive speculation and leads primarily to landfill deposition.
In a world where overconsumption, extractivism and inconsistency in policy and design still aggravate climate change, we aim to reconfigure current waste pathways. We adopt three approaches:
- Returning organic matter to its natural trajectory.
- Mining the cityscape for construction materials.
- Optimizing and commoning spaces and surfaces for all species.
The project initiates an ongoing process of urban metabolism maintenance through participation and the building of community-friendly ownership models in four adjacent courtyards in a post-socialist residential neighborhood North of Berlin Ostbahnhof. Here we can probe the potential for city-wide application of the project, as this housing typology is prevalent throughout Berlin.
From confined courtyards with linear waste systems, we aim for empathic communities and ecosystems: A Composting System, Community Gardens and a Green Corridor abound with Natural Playscapes interlacing habitats – human and non-human – between courtyards. A public square, a community center, and weekly affordable food markets all further enhance local socio-economic ecology.
We advocate for coordinated, simultaneous changes in culture, design approaches and policy making. We address this project to designers, architects, academia, politicians, and decision-makers. By recognizing the value of what we before so thoughtlessly have discarded, together, we can come much closer to the blueprint ideal of complete local circularity.
Fellow
Related events