Splash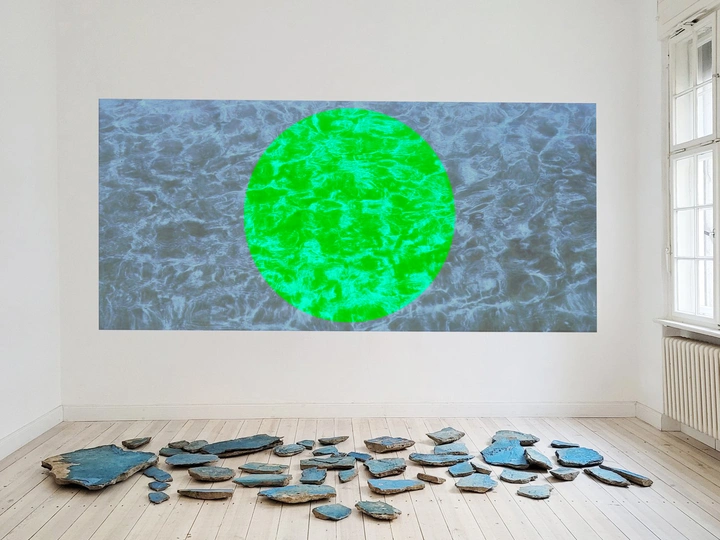 A site-specific installation uses former communist-era swimming pool elements combined with video showing the disappearing green saturated water.
---
Ewelina Makosa
Warsaw, Poland
Links
Team members
Ewelina Makosa
Field of work
Architecture, Design, Ecology, Visual Art, Multimedia
Project category
Raising awareness
Project submitted
2023
Multimedia Artist and Interior Architect.
In 2019, at the University of Arts in Poznań, she defended her doctoral thesis entitled: Mortality and traces of corporeality" under the supervision of Professor Leon Tarasewicz and Dr. Anna Kędziora. Reaserching the topics "crisis of traces" as seen through the objects. " I use found artifacts as a tool to tell the stories in reference to today's reality, (also regarding the new technologies), illustrating the various tensions taking place in the world. I investigate the relationship of human transformation and artifacts in relation to the anthropology of the object. From 2012 to 2018, she was a doctoral student in Professor Leon Tarasewicz's painting space studio at the Faculty of Media Art at the Academy of Fine Arts in Warsaw.
---
The pool - a utopian vision, a dream come true, an association with carefree, fun, here presented in a different way - as a fragmented remnant. The pool elements are integrated with a video depicting the disappearing water with fluorescent green hues signaling the transformation that has occurred in relation to climate change over the years.The installation is also a reflection on consumption, the desire to have and consume life, which was a virtually unattainable dream under communism. Nowadays, most of us live in a prosperity that was once unattainable for many. The rampant system of capitalism, makes us want more and more, disregarding usualy the changes that are taking place in nature. The installation is multidimensional and touches on several themes simultaneously. I believe it is an extremely important signal in today's world, where we try to search for balance. The instalation can be adapted and inserted into a variety of spaces, including also outdoor ones.
As a multimedia artist I explore abandoned architecture in order to use artifact and give them new context, create a valuable artistic language that symbolizes transformation and give strong, yet understandable visual signals.