Threading Roots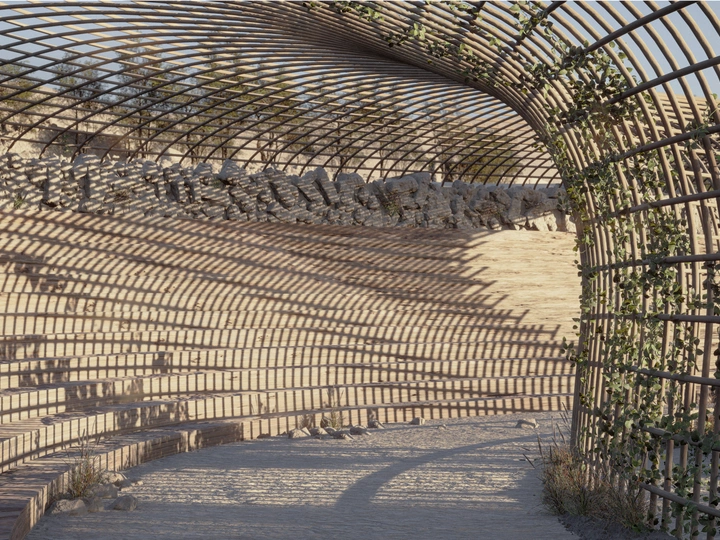 The project focuses on the shifting ecologies of the past, questioning how food, nature, and the climate crisis may relate to one's spatial practice.
---
Julia Frendo
Valletta, Malta
Links
Team members
Julia Frendo
Field of work
Architecture, Design, Landscape architecture, Film, Photography
Project category
Food system
Project submitted
2023
Julia Frendo is an architecture graduate from Malta. She is interested in the intersection of natural landscapes, architecture, modes of inhabitation, and materiality. Central to this thematic focus is the exploration of the relationships between the natural conditions of the ground, resources, and political ecologies. Her practice takes an interdisciplinary approach, driven by research, design, and media experimentation. Julia completed her undergraduate degree at the University of Malta (2015-19) with First-Class Honours. During this time, she also studied at the University of Kansas, USA, gaining experience in material fabrication, clay printing with robotic 'KUKA', and experimental analogue photographic processes. This was followed by a year working at Mizzi Studio, a London-based multidisciplinary practice. While at Mizzi Studio, Julia worked on key projects such as the Royal Park Kiosks, Kew Gardens, and a façade proposal for fashion brand Saloni on Sloane Street for Chelsea in Bloom. Following her year of practice, she completed an MA in Architecture at the Royal College of Art, the leading art and design postgraduate institution, in London, UK. Receiving a distinction in her final dissertation, Julia focused on understanding the politics of space and acts of commoning on the Maltese islands, where the collective nostalgia of being simultaneously home-sick and sick of home stems from the overall disconnect and alienation produced by the contemporary predominant building typologies. She probes the cross-cultural dynamics of her Maltese upbringing and the influence of time that has shaped her view of a planetary garden. Julia was awarded the RCA MA Architecture Student Prize and was shortlisted for both the Dean's Prize and Spatial Justice Prize in 2022.
---
Threading Roots reflects on the role humans play within the complex web of ecosystems that regulate life on Earth. The project works through scales of interdependencies, highlighting the interwoven nature of actions and interventions scattered across an almost exhausted quarry site. Acting as an archive to be read through the soils, produce, and consumption shifts across the island, it critically reconstructs L-Imnarja, a local agricultural feast held once a year in celebration of local craft and produce. The project works to introduce tools that promote the adaptation of a contemporary feast at various scales of intimacy. Dissipating boundaries between people, food, and local ecologies, it is a test bed for conviviality, access, and experimentation. It is a distributed architecture constructed using old techniques of rubble stone building and giant reed weaving as it aims to bring together the residents, the chef, and the farmers to celebrate the diversity of our local seeds, produce and forage. The project creates a shift in seemingly and historically divergent interests—bringing together threads of past ecologies into future assemblages of inhabitation. Following Anna L.Tsing's theories of assemblages and contaminations described in The Mushroom at the End of the World, the interventions work inclusively with encounters' ecological, economic, and social perspectives. Food, nature, and people are the three essential elements that, when in balance, provide a food system that supports natural systems; biodiversity, soil nutrition, and stable climatic conditions. Food security and the support of local production lead to care and subtle entanglements between human and non-human worlds while releasing carbon emission pressure from imports and regenerating our soils. Through our understanding of the complexity of our ecosystems, we may begin to learn that communities survive best when working together, not alone.