Basel Pavillon 2022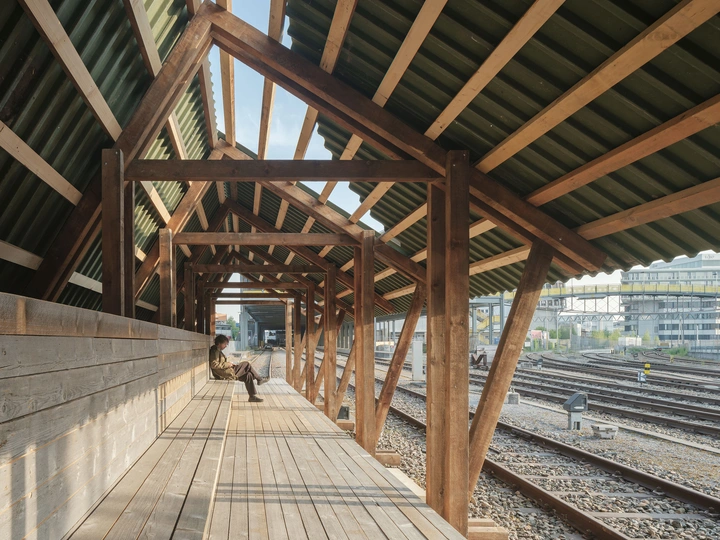 Basel Pavillon, a pioneer in the architectural exploration of climate-friendly, circular construction. All components originate from deconstructions.
---
Architektur Basel and Architektur Dialoge Basel
Basel, Switzerland
Links
Field of work
Architecture, Research
Project category
Material tracking and reuse
Project submitted
2022
The pavilion made of reusable components is an initiative of the Architektur Basel collective. The Christoph Merian Foundation is supporting the project and providing the building site for the pavilion.
---
The first Basel Pavillon made of reused building components is presented on the Dreispitz site as part of the AWB: a temporary open venue whose architecture demonstrates new possibilities for climate-friendly construction and the circular economy.
With their design, Marta Colón de Carvajal and Juan Palencia from isla convinced the jury of recognized experts: their "Loggia Baseliana" consists of up to six open units built from different reusable components. With clarity of form, each unit derives its structural system from the respective materiality. Grouped together under a simple pitched roof made of trapezoidal sheet metal, the modules form a continuous pedestrian passageway following the railway tracks over a distance of fifty metres – an urban veranda that affords glimpses of the site's past and views of its future transformation into an urban quarter.
The Basel Pavillon is a pioneer in the architectural exploration of climate-friendly, circular construction. All the main components of the "Loggia Baseliana" – clay tiles, wooden planks and panels, steel profiles, trapezoidal sheet metal or cardboard tubes – originate from regional deconstructions, which were recorded in a component catalogue for the competition by the specialist planning office Zirkular. In March, the modules were prefabricated at HUSNER AG Holzbau and installed on the Dreispitz site in April.