Bathing into Industrial-Ecological Alliance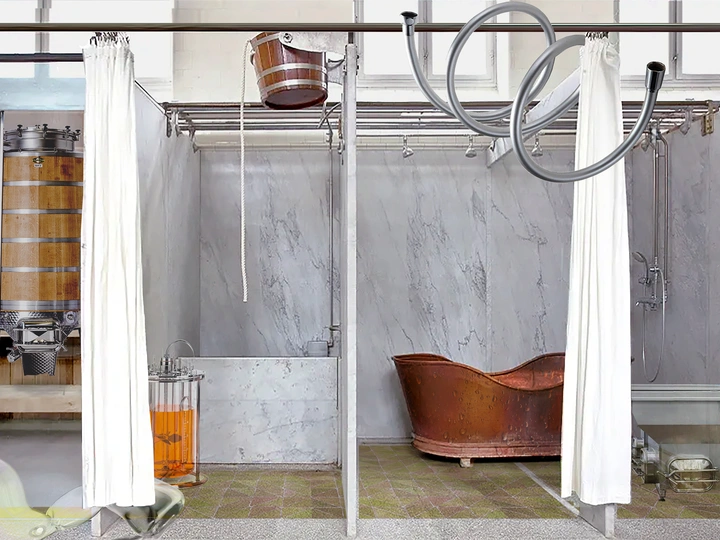 a soft circle for workers & designers in industrial processing infrastructure, gathering quarterly at public bathhouses to share and support eachother
---
Bathe.Stream
Berlin, Germany
Links
Team members
Petja Ivanova
Sarah Kantrowitz
Field of work
Architecture, Design, Engineering, Ecology
Project category
Energy
Project submitted
2023
We work through art, design, and process architecture to help build and enchant regenerative infrastructures for relationship-based food systems and other processing operations on the biological continuum.
Recent past work includes delivering process architecture for a 30,000 m2 clean-room blood fractionation plant in Texas, running a week-long dairy spa for commercial cheese makers in a village in the Italian alps, assessing feasibility of structural timber for use in a cooperative slaughterhouse, running space planning for a community-based food processing facility on the site of a former coal plant machine shop in downtown Charleston West Virginia, and hosting a sad dinner party on a dredging barge in the middle of Boston's Mystic River, overlooking ExxonMobil's leaking 95-acre oil terminal.
Current projects include leading integrated process architecture and creative design direction for build of a 20,000 m2 heavily-automated third-party shared-use precision fermentation plant. While remaining skeptical of synthetic biology, this process type is also well-afforded to the trans-scalar somatic practice of designing for deeper partnership with the bodies of living microbes running the facility's core process. While there is currently great inertia to industrialize biologize, it is also here that there is the opportunity to biologize industry, opening and deintensifying operations to embrace all the regenerativity of life and living in biotic process.
Given the novel project delivery model and novel supply chain decarbonization process technologies embraced by this client, we appreciate that the team is also committed to the sustainability of the facility's embodied emissions, committed to its aesthetics, story, worker quality of life, and committed to empowering an integrated, holistic design team from project inception. We would be eager to collaborate and exchange on this or other projects through the quarterly gatherings proposed in this forum.
---
Industrial operations today generally hoover in petrochemical products and spew out alienation. A dwindlingly narrow segment of the human population profits wildly while everyone else gets consumed, exploited, or addicted. The more this imbalance of power grows, the harder it becomes for anyone on earth to opt out. Alongside this untidy knot, many alternative approaches to organized, collective processing of food, fuel, and medicine blossom but can struggle to replicate, coordinate, and reach more people reliably without recreating corporate industrial harm in a new outfit. To support these operators in building the resilient, regenerative physical infrastructures to rise from industrialization's ashes, this project asks : how can we help convene a bioprocess technical assistance collective of workers, healers, scientists, engineers, and designers around a core of both industry expertise and the deep trust to go together into the physical, emotional, and spiritual re-worlding of process and manufacturing design?
To begin, one step might be to organize regular meetings that gather a supportive community of shared practice around caring, embodied relationship as a respite from the often harsh, disembodied space of working on and in industrial facilities. We propose to meet quarterly in public bath houses, as both an exemplar of processing facility design centering care for the body and as an ideal environment for quiet, soft gathering. We hosted the first of these sauna-based meetings in July 2023, as an official side event of the UIA World Congress of Architects in Copenhagen, and plan to host the next one in October.
We hope this can become a space for support, care, knowledge transfer, capacity building, and re-weaving the harm of industrial operations into sumptuous and mutually-nourishing partnerships.