Napirze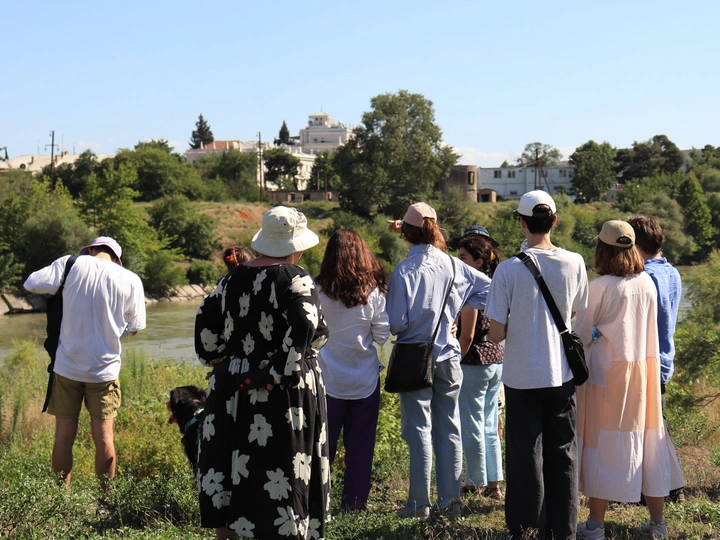 Reconceptualizing the human-river relationship and culture, starting from the Mtkvari river floodplain in Rustavi, Georgia
---
Links
Team members
Maggie Brand
Deme Gorgadze
Eka Khomeriki
Nini Oragvelidze
Ani Sadunishvili
Data Tsintsadze
Marika Verulidze
Field of work
Urban planning, Landscape architecture, Ecology, Film, Research
Project category
Urbanity
Project submitted
2023
It all started in the early spring of 2019 When we started an art project called – Disruption. The idea of the project was to live stream different Electro artists and cover live streams with footage from Rustavi's industrial zone. This way we wanted to show our community the reality we live in because the majority of the population had no information about the air pollution levels and about the factories in general although Rustavi is considered to be the biggest industrial city in Georgia.
We are dedicated to developing a new identity of Rustavi, bringing cultural change and better environment to the community. We use urban garden to organize meetings and spread the word about environmental awareness, especially about Mtkvari river floodplain, which is located in the heart of the city. Part of the floodplain was destroyed during the late 90s due to economic crisis and now we're working on it to get it back.
NAPIRZE in Georgian means - on the bank (of the river)
---
NAPIRZE project aims to reshape the human-river relationship culture and it's actively taking place in Rustavi,Georgia's prominent industrial city.
For the past 5 years,we,as community members,have been actively working and protesting against severe air pollution caused by the industrial sector in our city,worsened by biannual transborder pollution.Our efforts led to the successful passage of a legislation project in the parliament,resulting in new regulations and reduced air pollution levels.However,our journey is far from complete.
In 2020,we initiated the #GROWYOUROWNFOREST campaign to collect Himalayan cedar seeds from local parks and nurture them for planting.Initially,we used a private yard to store the newly born seedlings.During the first spring,we managed to distribute over 350 baby cedars to the community.
Inspired by our progress,we decided to replace the old garage with a Nursery,expanding our capacity for tree hosting.With the support of a successful crowdfunding campaign,we established the Nursery, paving the way for the creation of Rustavi's first urban garden.We named this collective space DATAS EZO,where we come together to enhance our knowledge, raise environmental awareness,collect plastic waste for recycling and foster tree growth.Most importantly,we're actively engaged in the floodplain restoration project,a vast 320-hectare area situated at the heart of the city.
Recognizing the project's potential impact on the city,we aim to reclaim the floodplain's lost biodiversity and encourage the return of wildlife.One of our most cherished aspirations is to re-attract otters(Lutra lutra meridionalis).They were native to this region but have disappeared due to deforestation.Their presence will serve as a remarkable indicator of our success and demonstrate a huge ecological achievement.
With the support of the community and collaboration with experts and professionals,we are confident in our ability to achieve what was once merely a dream