The Challenge Academy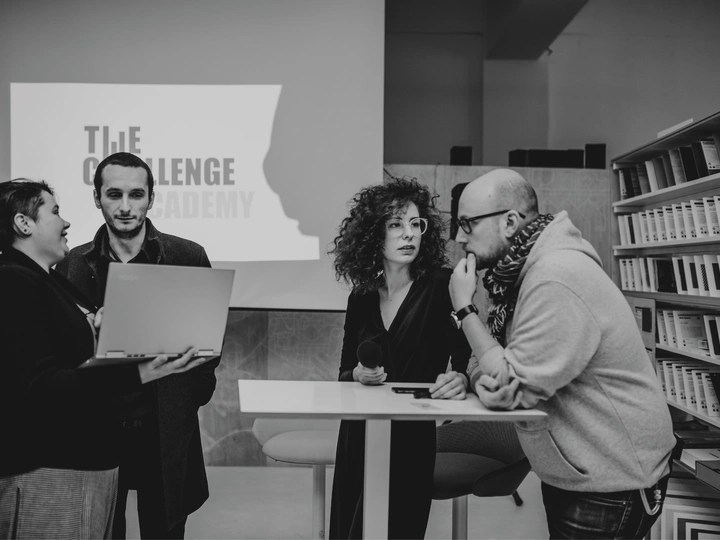 An academy that walks the student through every step of solving an architecture competition as a class in itself. 'This school is a list of names'.
---
Lorena Brează
Bucharest, Romania
Links
Team members
Lorena Brează
Elena Cinzeacă
Florin Cobuz
Andreea Istrate
Daniela Preda
Field of work
Architecture, Design, Urban planning, Curating
Project category
Urbanity
Project submitted
2023
I am an architect and PhD student at "Ion Mincu University of Architecture and Urbanism" in Bucharest, interested in finding better ways of approaching architecture education in order to prepare ourselves for the on-going changes crossing our profession – in the last 3 years I have been studying the (design) competition as an educational tool. I run my own studio, involving my students in every step of the design process, while my interests as a professional concern exhibition and museum programs. I graduated from the Faculty of Architecture and Urbanism in Timișoara, studied at UCL Brussels and did two architecture internships in Prague (2015) and Vienna (2017). I am currently a teaching assistant at UAUIM's 1st year studios - architecture and urbanism.
At the beginning of 2020 I founded The Challenge Academy - the main experimental educational program in Romania, dedicated to students in architecture, based on connections and competition as a learning tool.
In the last years I have been an editor for Zeppelin magazine – the main architecture publication in Romania - and started my curatorial world in several fields, coordinating the Opening exhibition within Timisoara 2023 – European Capital of Culture. Besides my work in the academy, at the moment I am coordinating BrightCityscapes exhibition at FABER (within the same cultural European context) and I run the first rare-plant shop in Romania (Bucharest), with integrated design services.
I am interested in using our strategy-making minds for shaping the futures for better. In the last 10 years I have lived in 12 different cites and decided to return home, as I love my culture, but also because, you know, jokes are not really translatable.
---
The Challenge Academy is the main educational program in Romania, for students in architecture, designed to guide its participants through finding the healthiest knowledge within the process of becoming architects.
The architecture competition is our main tool in this direction, almost a pretext for encouraging training our problem-solving skills, giving us a prize to pursue. The pop-up school intertwines the established model of learning architecture with lateral thinking and experimental forms of engagement. Its process is aimed to formulate a new notion of what an educational institution should mean and offer, complementing the lessons of the traditional system that has sometimes misguided our evolution.
The researched-based guiding methodologies are gathered by PhD students from Ion Mincu University of Architecture and Urbanism in Bucharest. When it comes to mentorship and knowledge-transmission, the intimate connection between young students and doctoral students is fostered. This approach generates give&take cycles within the community. The process to persistently reinvent collective endeavours can be reduced to our motto: "This school is a list of names".
Mater library - the biggest material library in south-eastern Europe - hosts our exploration. The pandemic context made us wonder how we can generate meaning without being tangled up by a place on the long term. We reconnected the four existing architecture faculties in Romania, through online meetings, involving lectures and competition-based learning. Therefore, we kept developing a mixed system, that can offer everyone a spot in the academy, even outside Romanian boarders.
We aim to learn the necessary tools for better learning to approach the architect's profession today. Our long-term purpose is to regenerate the decadent educational institutions: basically, we want to return in the system and replace what doesn't work with the essential knowledge we should all get in this direction.