Inward. The silence is within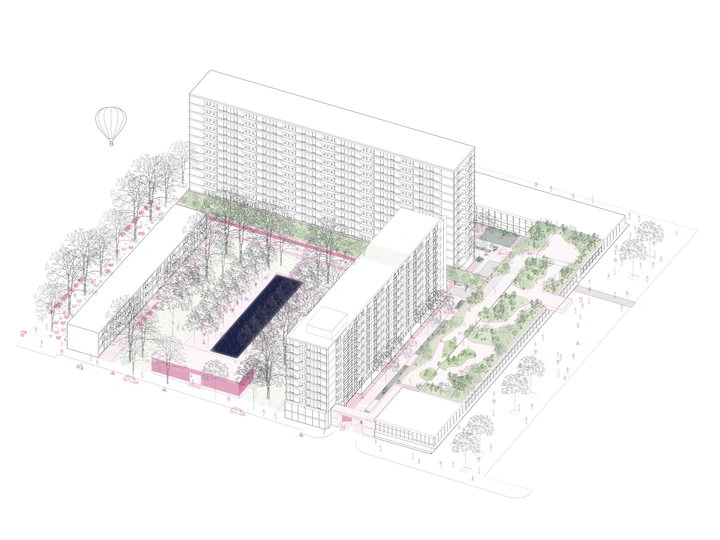 'Inward' shows a new perspective on the perception of sound in the urban landscape and its influence on the psychological well-being of citizens.
---
Anne van den Berg
Rotterdam, The Netherlands
Links
Team members
Anne van den Berg
Field of work
Design, Urban planning, Landscape architecture, Research, Other
Project category
Public space
Project submitted
2023
Anne van den Berg (1997) is an urban designer in Rotterdam, NL. In 2022, she graduated at the Faculty of Architecture and the Built Environment, TU Delft. Her graduation project, about the perception of sound in the urban landscape, has been selected for the Archiprix NL (2023, ongoing) and awarded in the shortlist of the Mies van der Rohe Young Talent Award (2023).
In her projects, she likes to work at the edge of urban design, art, and poetry.
---
This graduation thesis highlights the role of noise pollution in the everyday lives of urban dwellers. It stresses the urgency of noise pollution; the gap between urban design and psychology; and new layers to communicate with urban design, using sound as a means of storytelling. Urban planners place too much emphasis on vision, with the other senses playing a limited or non-existent role.
The inner city of Rotterdam is very dense and contains all kinds of activities. This makes it an area full of life, but also a fragile place looking at the future and its livability. As a result, citizens face difficulty in finding a place to retreat.
The research contains a translation of psychological theory into design interventions, a strategy to find balance in contrasts within the auditory landscape of Rotterdam, and an elaboration of the surroundings of Rotterdam Central Station as a new sound landscape, which particularly responds to the addition of silence.
Within the existing urban configuration, courtyards and expedition streets function as the inward-oriented typology. The whisper route in Rotterdam Noord connects hidden spaces by focusing on the transition from loud to calm spaces, through a series of epiphanies. Within the city center of Rotterdam, the Lijnbaan Ensemble is redesigned as calm oasis. The court, positioned in a louder environment, seems like a forgotten island and offers opportunities for a calm escape.
Together, a calm structure 32 times the size of Rotterdam Central Station arises. This has been translated back into a pattern set; a bundle of design interventions that provide tools to design with the composition between vibrance and silence and communicate with sound perception.
With this, the title of this thesis, inward, reflects a dual direction towards the inside; 1. The withdrawal of the mind in order to retreat and 2. The architectural form of inner spaces; supposing a healing territory of community within the urban scape.