MOLTEN MESA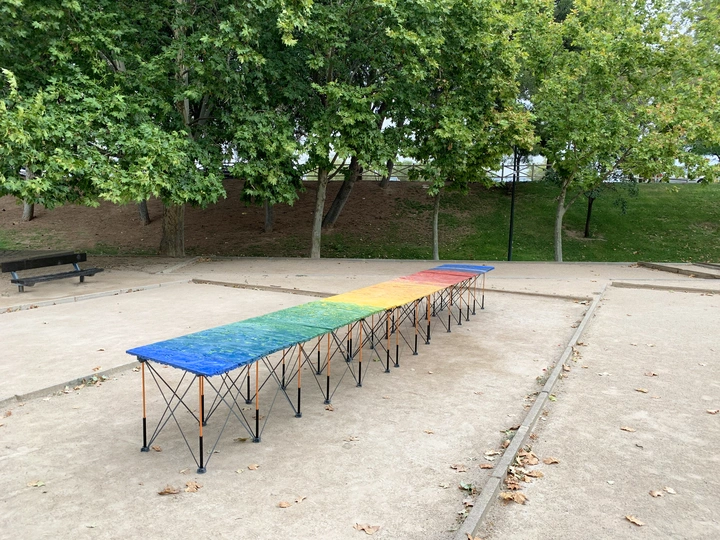 Demystifying the plastic industry by setting up a DIY micro-recycling plant, designing and fabricating a series of tables from plastic waste material.
---
Linus Gruszewski + Andy Yu
Zaragoza, Spain. // international
Links
Team members
Linus Gruszewski
Andy Yu
Field of work
Design, Research
Project category
Material tracking and reuse
Project submitted
2022
Linus is a French-Australian designer based in LA. Starting in architecture, he splits his time between scenographic and installation work. You'll find him looking for poetry in industrial catalogues and wandering the city looking for discarded materials.
Andy graduated from the U. of Melbourne in '09, worked in Shanghai/Tokyo/Copenhagen for Sou Fujimoto/BIG, took a sabbatical as a chef in Amsterdam. His teaching draws inspiration from food. He is Projects Director at Fujimoto Atelier Paris.
---
Molten Mesa is an ongoing R&D project led by Andy Yu and Linus Gruszewski. It focuses on democratising the means of plastic production, demystifying it via hands-on design/build projects. These serve to investigate the cultural uses of material and our relationship to waste. We explore the world of recycling, decrypt contradictory [greenwashing] messaging, and center the role of designers as critical problem identifiers with tangible power.
We live under the hangover of first-wave greenwashing, the residual guilt created by plastics manufacturers, we navigate these issues by bringing the focus back to the material itself.
The first incarnation of the project was the production of a series of tables manufactured out of plastic waste, for a two week workshop held over summer '22 in Zaragoza.
Collaborating with an international group of students from several design disciplines, we set about designing a process to turn trash to treasure.
Partnering with an industrial recycling plant, we collected HDPE from across the city and processed it using a hand-built shredder and extrusion machine, made available to us by our friendly neighbourhood hackerspace.
Our DIY production line led us to think about plastic as having its own persona, which in turn guided production to address it not as a subject, but as our partner in this project.
The process is like baking: balancing ingredients, temperature and time is key.
Once cooled, we un-moulded the tabletops, sanded them to reveal the material within the plastic mass. Leaving one side unfinished, with the hope that the the tables tell the story of their fabrication, and give back to the neighbourhood which provided the base material for their construction.
Moving forward from this iteration, we aim to refine the manufacturing process, using different tools and materials, and bring this thinking to a new forum, where it can develop as a multi-handed design project and a participative pedagogical experience.