The Community Sharing Machine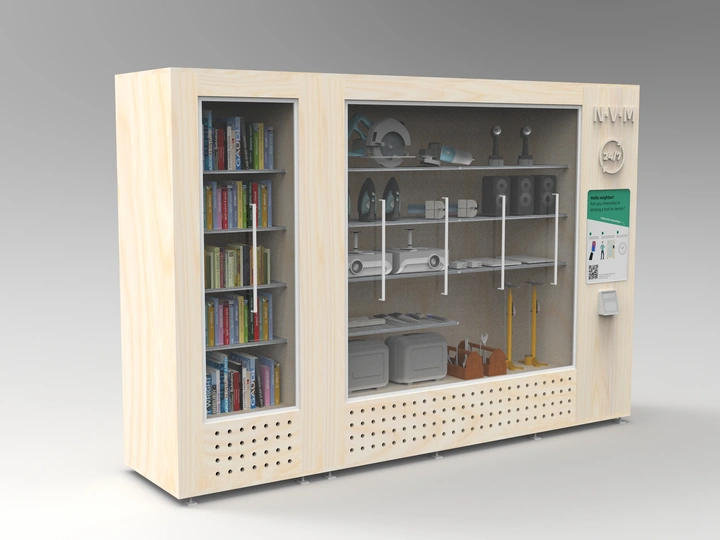 A social initiative seeking to share tools in the community to reduce consumption and unessential spending and thus produce a circular economy.
---
Amnon Direktor
Brussels, Belgium
Links
Field of work
Architecture, Urban planning, Research
Project category
Material tracking and reuse
Project submitted
2022
Amnon Direktor is an architect, journalist, and urban researcher originally from Tel Aviv, based in Brussels. He has a master's degree in architecture and another master's in urban studies. In recent years he has worked in architectural and landscape offices. Amnon has been writing regularly in several magazines on architecture and environmental issues. Currently, he is a reporter in the field of environment and sustainability for the Israeli Society of Ecology and Environmental Sciences.
---
The Community Sharing Machine is a social and environmental project. This automatic vending machine contains various useful products and tools that most people occasionally need but do not use regularly. At any hour of the day, each resident in the neighborhood, who need or want to use tools such as drills, projectors, and pumps for bicycles, can easily access the vending machine and borrow them for periods of time ranging between one hour and three days, and return them back to the machine. Just like borrowing a book from a library. The local authority and the community subsidizes the service and work through a dedicated app.
The main goal is to allow neighborhood residents to share expensive appliances and tools, thus reducing consumption and curtailing spending. This community project promotes a circular economy and an environmental approach. Beyond the positive effect that a project of this kind can promote, the intention is also to make this machine a kind of community and neighborhood center for the residents. It is important to note that the machine is intended only for the residents of the specific neighborhood, with the intention that the residents will take responsibility for the machine and treat it with respect, unlike how they might treat any generic machine.
The purpose of this project is to change the way we share useful tools. This venture can make a big difference in how communities in cities live and cooperate, allowing environmental responsibility to be taken and, most importantly, reducing our ecological footprint. This project encourages a circular economy, environmental thinking, and a sense of community among the residents of the neighborhood.