Critical Heritage Issues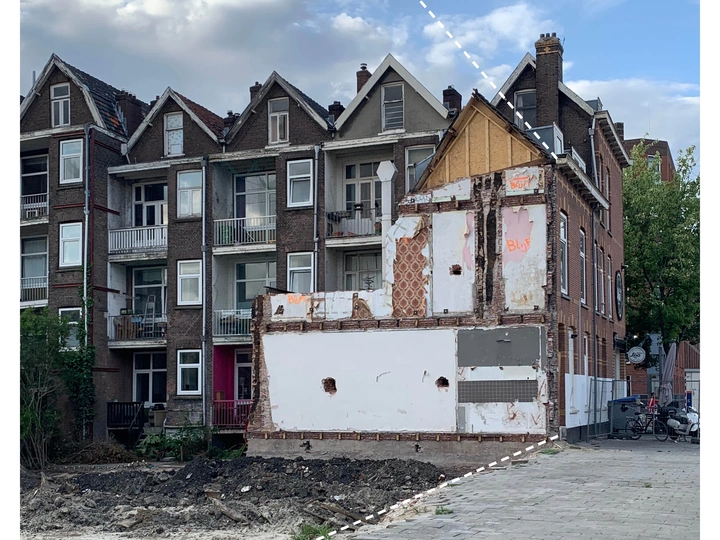 A platform that advocates for the immediate halt of demolition and leads the way in the provision of housing and shelter facing the climate crisis.
---
Jack Garay Arauzo
Rotterdam, The Netherlands
Links
Team members
Jack Garay Arauzo
Field of work
Architecture, Urban planning, Photography, Curating, Research
Project category
Renovation
Project submitted
2023
Jack Garay Arauzo is an architect, urban designer, researcher, and non-professional photographer shooting on film. Graduated from The Berlage Post-Master in Architecture and Urban Design at TU Delft, he currently works as an urban designer at WeLoveTheCity in Rotterdam, where he develops concept area visions centered on participatory processes, studies for the provision of housing, public space, and new urban infrastructure in large-scale urban regeneration projects across The Netherlands.
His research is focused on the social, political, and environmental dimensions in contemporary urbanization, housing and shelters as a complex urgent challenge facing the climate emergency, and the traditions of heritage conservation in architecture.
Flexibility, ephemerality, and itinerance are the core of his architectural practice. From scaffolds in the city, the architecture of events, street markets, and festivals, to circus tents. He design spaces with little impact in the territory.
His work has been exhibited at MIT (Fab11, 2015), Rome Tre University (RIBA Polyport, 2013), Univalle Colombia (Solar Decathlon LAC, 2015), Project NL (TU Delft, 2019), Travel Agency (TU Delft, 2021), International Architecture Biennale Rotterdam (IABR, 2022) among others.
---
We are reaching a point in history where historic preservation is not a cultural endeavour but an environmental one. 'Critical Heritage Issues …or the persistence of transformation' is a research project that documents and analyses the transformation of existing structures into new models of housing. This assessment seems particularly relevant based on a critical reading of the unlimited use of energy and resources on new constructions. In an expanded notion, the lifespan of pre-existing buildings is scrutinised to show applied radical ideas through innovative practices in The Netherlands and elsewhere. In three fronts:
(i) Appropriation challenges the role of the architect. Users customise the space they inhabit and so we should embrace transgressive, experimental or 'kitsch' urban environments. Both public and collective. The norm is to be spontaneous and embrace low-carbon solutions.
(ii) Flexibility cannot be anticipated. It is a consequence that arises from cultural and social interrelations between user and space. Generic structures tends to accommodate the most diverse of programs: as John Habraken's ideas on open structures.
(iii) Inside-out renewal is a projective act of urbanity. It involves ideas of circularity, climate adaptive environments, greening of cities, and addressing urgent social issues such as migration, ghettoization, gentrification and touristification.
This three acts are only achieved through collaborative processes of research and design which we are engaged in our practice. We are interested in dismantling the theoretical and practical frameworks for spatial and social transformation of heritage. What is the dialogue behind the recycling of a 1930s indoor swimming pool to accommodate 6 unique lofts? how is a 1930s building block designed to accommodate different lifestyles and spatial configurations inhabited in 2023? What process undertook the residents that built a studio space and apartment in a 50-meter tall concrete silo?