Deconstruction of an Olive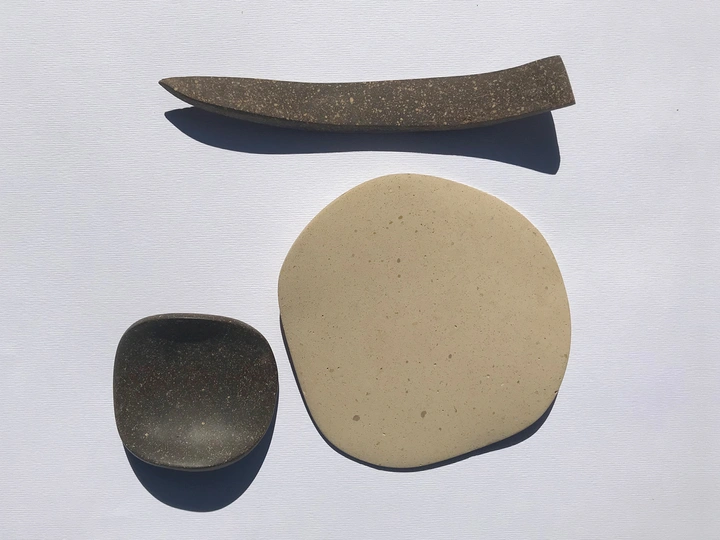 Rethinking resources and cultures through material research
---
Links
Team members
Anna Perugini
Field of work
Design, Ecology, Visual Art, Research
Project category
Material tracking and reuse
Project submitted
2023
I'm Anna Perugini (b. 1982), an interdisciplinary designer who engages in material experimentation, one-off commissions and mass-produced products. My research centres on exploring materials and their cultural significance. My work delves into the investigation of materials and by-products, examining their connections within ecosystems and extraction contexts. This prospective comes after my background as an industrial designer, where my focus centred around the functional and aesthetic aspects of materials.
I experiment with matter and making techniques. I rethink material aesthetics by seeking to question the prevailing cultural and environmental hierarchies in design and architecture.
In 2007, I earned a Bachelor's degree in Industrial Design from ISIA Roma (IT) and received the Arts and Human Research Council (AHRC) scholarship, which allowed me to pursue a Master's in Industrial Design at Central Saint Martins in London. During my time in London, I worked as an interior and industrial designer for over a decade.
However, motivated by the need to align my social and ecological ambitions with my design practice, I continued my studies. I graduated from the GEO-Design Master's program at Design Academy Eindhoven (NL) in 2022.
Recently, I've relocated to central Italy, to focus on a self-initiated material research project. The project aims to advocate for less extractive design practices and fostering social engagement with rural communities. My objective is to transform the by-products of extra-virgin olive oil production into beautiful objects.
---
"Deconstruction of an Olive" is an ongoing material research exploring olive pomace, the by-product of olive oil, and its potential for designing objects. Situated in Cartoceto, Italy, a village where my family once grew their olive trees alongside a small farm, the project aims to propose less extractive design practices by connecting local knowledge, small-scale farms, mills and research. The local production thrives through family-run businesses, renowned for their good-quality extra-virgin olive oil. I collect the byproduct, divide it into skin, pulp, and stones, and transform it into three potential materials with diverse texture, colour and features. Through an auto-ethnographic approach, my material research observes the relationship between food systems, agricultural waste and design practices. The project's geographic location highlights scalability constraints and the crucial link between fair trade socioecological byproducts and traceable raw materials. As the project evolves, I'm exploring collaborations with mills to obtain pre-divided olive pomace. However, tracing the origin of olives becomes more challenging as mills change locations and scale.
Working with organic matter raises questions about embracing its dynamic nature, including fermentation, oxidation, and odours, while also pondering the design applications of a material that undergoes biodegradation and a long drying process.
So far, the project has had a positive response from locals, farmers and academics involved. But designing functional objects remains a challenge that requires further attention, and would benefit from international collaboration with individuals and institutions who share the same commitment to interdisciplinary research. If the short term goal is the creation of a new material from agricultural waste and a collection of objects, on the long run, it seeks to employ creative practices for the empowerment of a shrinking community, nurturing a sustainable regrowth.
Fellow