Sacred grounds – Muqarnas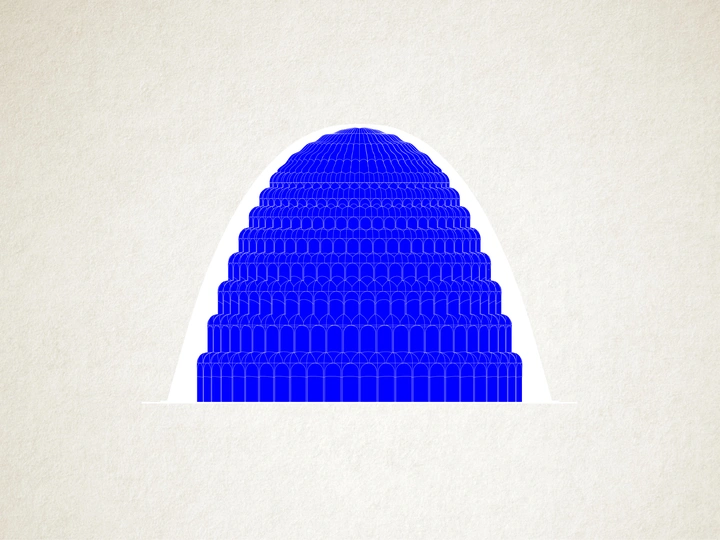 A pavillion calling for cities to reinvest in the notion of the sacred, bringing about processes of care for the built environment.
---
New South + Radhi Ben Hadid
Saint-Etienne, France
Links
Team members
Radhi Ben Hadid
Meriem Chabani
Orhan Gorbon
Field of work
Architecture, Engineering, Research
Project category
Raising awareness
Project submitted
2022
New South (France, Algeria) is an architecture, anthropology and urban design practice based in Paris, France. By questioning power dynamics and stakeholder relations, our projects propose evolutive intersections between the global North and the global South. In 2020, New South wins a Europe 40 under 40 award. Radhi Ben Hadid (France, Tunisia) is a structural engineer from Tunisia. He specializes in patrimonial and sacred architecture.
---
The muqarnas is a decorative molding applied to a ceiling vault, common to many local variants of traditional Islamic architecture.
Our purpose is to reimagine and transform it as an entirely new structural system, designed using parametric methods and fabricated in industrial grade ceramic, piece by interlocking piece. From decorative item, it becomes a cutting edge structural system. The back of the pavillion acts as a bird house, paying tribute to Ottoman bird houses found in mosques, and promoting human/non human cohabitation.
This collaboration between New South (Algiers, Paris), Radhi Ben Hadid (Tunis, Paris) and Gorbon Ceramics (Istanbul) aims to trigger a conversation around sacred architecture as a field for invention, and to center narratives from the Global South.
After completing a first prototype at CIVA (Brussels), the Muqarnas pavillion will be permanently built on the campus of the Saint-Etienne School of architecture in France in May 2023, in collaboration with local students, in a context of increasing invisibilisation and exclusion of Muslims from French society.
In order to tackle the climate crisis, we believe in a decolonial approach centering overlooked knowledge, practices and bodies from the Global South.
Fellow
Related events