An Atlas of forest occupations.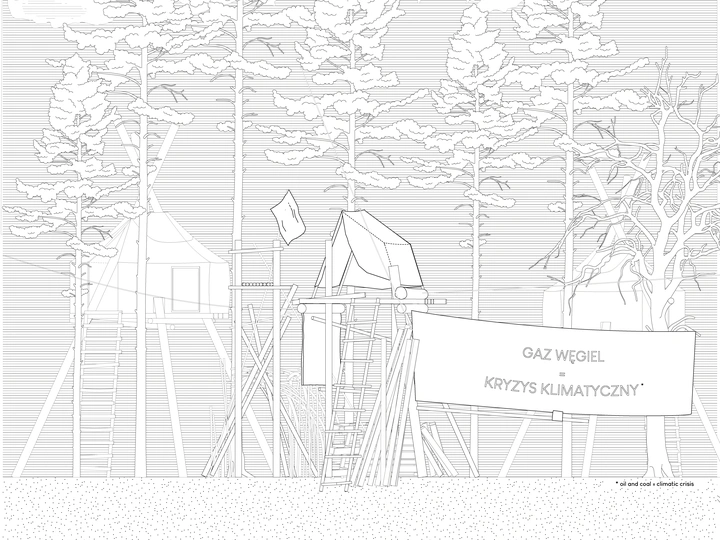 The project focused on civil disobedience, shown in occupying endangered forests in Europe, that would result in a book and accompanying exhibition.
---
Rachel Rouzaud + Bernadetta Budzik
Paris, France
Links
Team members
Bernadetta Budzik
Rachel Rouzaud
Field of work
Architecture, Design, Landscape architecture, Visual Art, Research
Project category
Raising awareness
Project submitted
2023
Polish-French team of young architects based in Paris. In Addition to the career of architects, both of them pursue artistic practice and regularly collaborate on various projects. They complement each other: Bernadetta with her writing and scenography expertise, and Rachel with her work in tapestry and artistic installations. Bernadetta Budzik graduated from Münster and Cracow School of Architecture with a double master's diploma in architecture. She worked on many exhibitions as a scenographer and exhibition assistant as well as having her work exhibited. She also worked on several research projects resulting in articles, booklets or presentations at conferences. Parallel to her work in Paris, she continues to research and write on topics connected to climate change, activism and protests. She conducted thorough research on architecture on borders and made a project trying to reinvent traditions of Polenmarkts. Currently, she focuses on a study of the relationship of civil disobedience to architecture and how architectless architecture may thrive in grassroots movements. She is also regularly writing for European Heritage Times. Rachel Rouzaud graduated from architecture school of Versailles. She teaches at Bordeaux and Versailles' schools.She is interested in codes of representation, specifically new ways of communicating the architectural project. She creates carpets, domestic and artistic supports, and weaves links between disciplines to make architecture more accessible. One of her most recent carpet is made for Palais de Tokyo. She took part in the International Garden Festival of Chaumont, illustrating forest fires that ravaged south of France and also participated to the reopening of damaged forests exhibition. She worked on an urban opera made from an urban study, with AWP. During her internship at Dogma, she participated in the Venice Biennale. During her diploma, she renovated forest houses with sustainable materials and was awarded with several prizes.
---
In an attempt of raising awareness, we would collaborate to make an exhibition and a research based book, where we would present the stories and testimonies of people living in occupations, history of places and prepare drawings and pictures of structures that were raised during the time of blocking the logging of the forests. The most alternative, brave and experimental exercise for architecture practise might be done by non architects, people that found themselves in the most prosaic, down to earth situation-creating shelter for their community. Without manifestos, design theory or pompous academia discourses they are redefining housing settlements, architecture connection to nature, they test the most sustainable practises in design and form a new way of leaving - yet they are outside the main conversation and without acknowledgment, they deserve. Environmental activists often use forest occupations as a last resort when other campaigns have failed. Polish Nora 219 occupation was an autonomous queer and anarchic space. It was created, combining multiple levels of resistance and struggle into one experiment. During the occupation of the forest, group of people form new way of settlement. With a common goal they can recreate their own form of cohabitation where in the centre is always a context of a forest.
Collaborating on this project, we would like to use our complementary skills. Rachel outside of her architecture practise is a rewarded artist. She uses tapestry and illustrations, domestic and artistic supports to weave links between histories, cultures, and disciplines to make architecture more accessible.
Bernadetta in addition to her architectural work, writes about topics connected to feminism, climate change, and social injustice. She would be responsible for writing the text. Together we would work on research and exhibition part of the project, since from experience we know it's the most fruitful form of working for us.
Fellow