Curating ecologies on architecture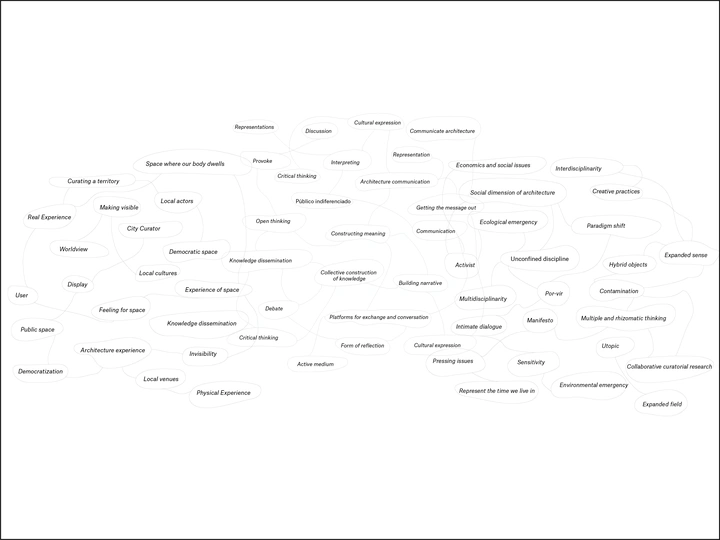 This project proposes a simple question: is it possible to continue curating architecture without taking an ecological and environmental stand?
---
Patrícia Coelho
Porto, Portugal
Links
Team members
Patrícia Coelho
Field of work
Architecture, Ecology, Curating, Communication, Research
Project category
Raising awareness
Project submitted
2023
Patrícia Coelho (Portugal, 1992), is an architect, curator and independent researcher. Holds a master degree from the Department of Architecture of the University of Coimbra and a master degree in Art Studies — Museum and Curatorial Studies from the Faculty of Fine Arts of the University of Porto. She has been developing research on the disciplinary intersection between the expanded field of architecture and curatorial and artistic practices. She is co-founder and curator of ōilha, an experimental platform which explores spatial and artistic micro-practices in direct dialogue with the local community. She is dedicated to curating and independent research in the field of Architecture, Curatorship and Experimental Art Practices. Was Editorial Assistant at Circo de Ideias. In 2020, joined the team of Galeria Municipal do Porto, where is currently curatorial assistant. Since 2023, is responsible for the Editorial Coordination and Communication of Fertile Futures, the Portuguese Pavilion at the 18th International Architecture Exhibition — La Biennale di Venezia.
---
«Curating ecologies on architecture» reflects on the curatorial practice in architecture and the importance of the exhibition as a medium to debate urgent, contemporary, and global issues. The aim of this research is to interview, map and create a dialogue within a group of curators with remarkable practices who have contributed, with new paradigmatic visions and different contexts of action, to the debate of the expanded field of architecture and its relations with Anthropocene realities. The active role of the curator as a cultural agent that summons different voices and thoughts to build a more comprehensive and informed dialogue, has allowed the crossing of experiences and the understanding of how architects cannot continue thinking, designing and building, without a conscientised position.
The relevance of documenting how architects enhance the exercise of communication, experimentation and confrontation of architecture through the practice of curatorship arises from the understanding of the act of exhibiting as a place to debate and problematise. In this sense, the proposal for research and editorial production will map architectural practices and conduct a series of interviews to different actors that have been engaged in responding to future scenarios. The interviews will analyze the different discourses and frameworks of each curatorial and architecture practice, thereby seeking to broaden the spectrum and diversity of worldviews, taking into account the breadth of territorial, ideological and generational contexts. «Curating ecologies on architecture» promotes the understanding of curating as a critical exercise at the service of the community, in order to create places of speech, capable of producing new understandings. This research will culminate in the editorial production of a book that reflects on the curatorial practice in architecture, materialising and documenting how to curate architectural ecologies.