Haus Bräutigam – Vacancies as spatial resources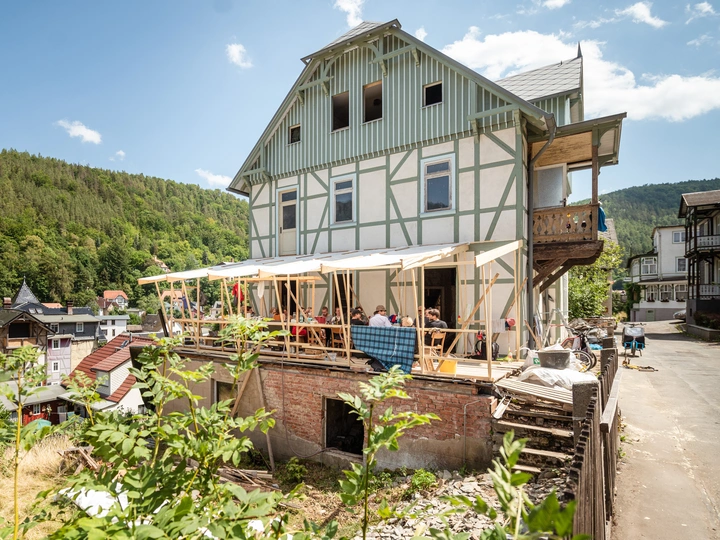 Haus Bräutigam is a model project for circular transformation approaches of vacant buildings in the rural region of Thuringia, Germany.
---
Haus Bräutigam e.V.
Schwarzburg, Schwarzatal, Thuringia, Germany
Links
Team members
Michaela Blei
Jessica Christoph
Christine Dörner
Iris Engelmann
Maria Frölich-Kulik
Maria Gottweiss
Michael Gottweiss
Till Hoffmann
Sebastian Jäger
Burkhardt Kolbmüller
Marlene Külz
Sophie Littmann
Henning Michelsen
Robert Ochsenfarth
Lennart Weski
Field of work
Architecture, Curating, Research
Project category
Renovation
Project submitted
2022
The non-profit association is run by 15 researchers and practitioners from architecture, landscape and regional planning, cultural and social backgrounds, and students plus several people interested in sustainable development, self-construction, circular energy and building material, as well as rural development. Haus Bräutigam is a model project of the Thuringian Ministry of Infrastructure and project of the IBA Thüringen (International Building Exhibition Thuringia) since 2019.
---
Haus Bräutigam is a typical but vacant former »Sommerfrischehaus« in the rural area of Schwarzatal, Germany. Being a late 19th-century romantic idea of a timbered house and, at the same time, an owner-led hotel in the woods of the Thuringian Forest, it mirrors demographic, economic, and social changes in the area over the last decades.
In 2018, a local initiative saved the leftover building from destruction. Since 2019, a non-profit association with people from different backgrounds has been taking care of the house, its renovation and restoration. Regarding the state of renovation, Haus Bräutigam serves as a temporary collaborative living and working place.
Haus Bräutigam raises several questions on how to renovate a typical piece of architecture in the region: low-tech, climate-friendly, circular materialisation, and high-quality Baukultur. Therefore, it raises awareness of heritage and common goods, such as spatial resources, ecosystems, traditional craftsmanship, mobility, and local production of goods and food. The non-profit association Haus Bräutigam e.V. works in different formats, from hands-on workshops to cooperation with related regional projects and universities. We actively question how the building might serve as a place to learn together and how it relates to the local community. Therefore, we understand Haus Bräutigam as a model project on how to rebuild and reuse buildings with a minimal footprint to create a place that is operated and used commonly.
Fellow
Related events