The Urban Interventions for Wastivism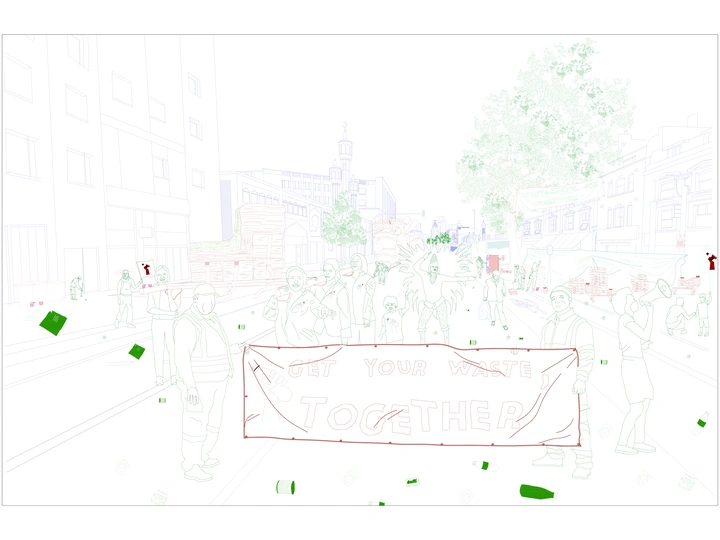 Wastivism is a movement born in London that facilitates waste-related activism for the sake of social and environmental justice, with design proposals
---
Ralph Nabil Nasrallah
London, United-Kingdom
Links
Field of work
Architecture, Design, Research
Project category
Material tracking and reuse
Project submitted
2022
I am a French-English-Lebanese bachelor graduate architect, who believes in multidisciplinary practises between spatial production, art, design, performance, photography and research. I answer urban challenges/ tensions with poetry, activism, sensibility and collaborations.
This project was developed as part of my Bachelor in Architecture - Graduation Year, at the Central Saint Martins School (London, UK). It was tutored by architects Kleanthis Kyriakou and Tumpa Husna Yasmin Fellows.
---
A design research, performance and proposal towards an alternative approach to Waste and its Management in Whitechapel, London.
After establishing a relationship with local public-cleaners in the Borough of Tower Hamlets 'made invisible' despite their hard labor, it was time to raise awareness and take actions. Through investigations, mappings and collections of Waste (..related issues), the Wastivism manifesto was born.
It denounces the climate and social injustice that Waste has been causing, and exposes the lack of transparency demonstrated by political actors on its modern management. Wastivism is for Whitechapel's marginalised communities to act, learn and protest towards radical change in the way we approach Urban Waste.
Against drastic re-development, we hijack privatised local site(s) to create platforms for Wastivism, through retrofitting & extension proposals:
The first design proposal offers a Laboratory for Wastivism, where one can find a material center to take advantage of recovered-waste, workshops with tools, education, debate and cleaning spaces. We aim at empowering local actors, for our proposal to rely quasi-entirely on community engagement.
Without them, without you, Wastivism cannot be.
The movement spreads on the streets of Whitechapel, where a Carnival for Wastivism will demonstrate our efforts. Taking pride in the labor of Wastivists, we re-activate public spaces, celebrate our creative activism, transport the waste-based creations, and of course, pick-up more waste/ resources on our way: We spread awareness.
When the parade ends, we reach the Community Garden for Wastivism. It offers semi-outdoor spaces for our work to be exhibited, market stalls to support the local economy, performance areas for events and community gathering. As damages are part of materials lifespan, we offer smaller workshops to repairs creations yourselves.
Join our fight to make Whitechapel's streets cleaner, safer.
Join Wastivism !
Related events